Greta Van Susteren Responds To Mediaite Post About Her Stance On AZ Immigration Law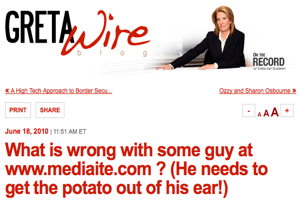 This morning, Mediaite columnist Tommy Christopher took issue with some comments Greta Van Susteren made last night on her Fox News program about the White House's response to the controversial Arizona immigration law– namely, that Van Susteren seemed to express little concern with the possibility that the law may be unconstitutional. Van Susteren, understandably, begged to differ, and suggested Christopher "take the potato out of his ear."
To recap, Van Susteren made a point that the federal government is reacting negatively to the state of Arizona directly. Christopher interpreted her statement as giving too little importance to the questionable constitutionality of the law:
Finally, whatever you think of Arizona's law, it is remarkable that Greta Van Susteren, a supposed legal expert, would make this statement: (emphasis mine):

"Arizona, finally, after being quite patient, steps in, passes a statute, whether it's constitutional or not, and the reaction now seems to be, by the federal government, 'You guys are the bad guys.'"

The constitutionality of the Arizona law is just a sidenote, then. What really matters is whether most white people support the law. Funny how the percentages of people supporting the law poll at almost exactly the percentage of the non-Hispanic white population.
Van Susteren responded to Christopher and Mediaite on her blog, Gretawire, in a post entitled "What is Wrong With Some Guy at www.mediaite.com? (He Needs to Get the Potato out of his Ear!)", for suggesting that she, an attorney, did not care about the Constitution:
"The author below suggests I don't care about the constitutionality of Arizona statute or not. He says "sems [sic] to" so I guess this is an admission by him that is is his imagination as to what he thinks I think. Of course I care whether statutes are constitutional or not – that was not the point of my comment last night (and by the way, I will put my record up against this writer's any day of the week of actually FIGHTING for Constitutional rights of clients in court while he worries about what he dreams up in his postings about what I care about or not. While he writes stuff ….I actually DID it as an occupation. I don't know about you, but it is alot easier to dream up what you think people think than to actually do!"
She also repeats her initial argument, which she claims had little to do with the constitutionality of the law but, rather, the fact that the law was passed is bringing attention to the problem of illegal immigration and any attention given to the problem, especially from the federal government, is a good thing.
Ms. Van Susteren's reference to Christopher, a respected member of the White House Press Corps, as "Some Guy" is a rather puerile means to dismiss Tommy's status so look for his response in the comments section of this post.
Below is the segment from last night's On the Record in which Van Susteren discusses the immigration law:

Have a tip we should know? tips@mediaite.com