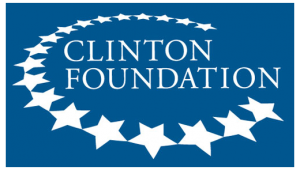 The hacker persona Guccifer 2.0 posted on his blog Tuesday screenshots and links to documents that were allegedly stolen from the Clinton Foundation server.
The Clinton Foundation claims that the documents are not authentic.
One screengrab purportedly shows the folders on the server, including "Donor Research and Prospecting," folders corresponding to the DNC and DCCC; folders corresponding to Hillary for America (Clinton's official campaign committee) and PAC fundraising, as well as a folder called "Pay to Play."
There are portions of spreadsheets that allegedly show contributions from large banks to lawmakers who sit on the House Financial Services Committee and another that allegedly is cut from a list of Democratic donors who were active from 2010 to 2015.
"As you can see, the private server of the Clinton clan contains docs and donors lists of the Democratic committees, PACs, etc. Does it surprise you?" Guccifer 2.0 writes, adding that it is looking for a way to release all the databases as they are too big to post on the blog.
Officials from the Clinton Foundation said that there was nothing to indicate that their systems had even been breached, and they affirmed that none of the folders or files shown on Guccifer's site were actually from the foundation's server.
Cybersecurity experts believe that the persona Guccifer 2.0, either a single person or a hacker collective, is linked to the Russian government. Guccifer 2.0 is believed to be connected to the hack of DNC emails, which were leaked by Wikileaks just before the Democratic convention.
The Kremlin has denied any role in the hacks and any attempt to interfere with the U.S. election.
Guccifer 2.0 concluded the blog post by wishing Wikileaks a happy 10-year anniversary.
[h/t Politico]
—
This post has been updated with comment from the Clinton Foundation.
Sam Reisman (@thericeman) is a staff editor at Mediaite.
Have a tip we should know? tips@mediaite.com