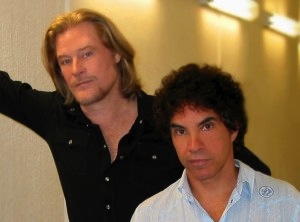 There are a number of uniquely-focused Super PACs registered with the Federal Election Commission. You can find anything from Raptors for Jesus to Why Not ZoidPAC? One of the newest SuperPACs registered, Hall and Oates Fans For America, started out as a joke but then gained some attention last week for its efforts to hit back against Mitt Romney's campaign. But the SuperPAC immediately dissolved after representatives for Daryl Hall and John Oates reached out to the group due to the "unauthorized use of their names."
RELATED: Donald Trump Considering Starting His Own Super PAC To Defeat Obama
The group planned to make parody videos featuring Romney, set to the tune of Hall & Oates songs like "Out of Touch" and "Rich Girl." William Hansmann, who served as director/treasurer of the group, expressed hope last week that the musicians might get involved in their effort.
After Hall & Oates' representatives contacted the Super PAC, the duo's manager put out a statement expressing their desire to stay out of the political sphere, and credited the group with being so accommodating of their wishes.
"Daryl Hall and John Oates recognize that the personal view points of their fans cross all political spectrums and are honored to be supported by their fans everywhere regardless of political affiliation. The PAC's founders recognize that the use of the "Hall" and "Oates" names for the purpose of raising funds is not an appropriate fan activity no matter what the goal of the fund raising activities might be.

"Daryl Hall and John Oates are pleased that the amicable dialog with the founders of the Super PAC have brought an expedient resolution to this matter and achieve a result both sides are pleased with."
The one bright spot in this story: if we're just finally getting around to joking about 80s groups in Super PACs, it will be at least another ten years before the name EminemPAC is funny.
h/t Rolling Stone
Have a tip we should know? tips@mediaite.com
Josh Feldman - Senior Editor