Hamptons Home Now on Market Could Become Priciest U.S. Property (Per Acre) Ever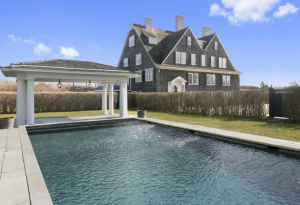 A new property that just went up for sale in the Hamptons may become the priciest per-acre purchase in history.
At only 3.73 acres, the property located at 366 & 367 Gin Lane is on sale for a whopping $145,000,000 in Southhampton Village. The home — known locally as "La Dune" — has links to legendary architect Stanford White of McKim, Mead, and White fame. The home's description on StreetEasy reads in part that the home boasts:
"…over 400 ft. of bulkhead beach front, gorgeous hedged lawns, two custom Gunite pools, and sunken all-weather tennis… Constructed in the early 1900s, the classic shingle-sided presides over rosa rugosa dunes that slope down to the wide sandy beach. The gathering rooms across the second level open across a series of decks and patios that all take in ocean breezes, and from which one can watch the ceaseless waves."
Not too shabby, eh?
The Hamptons is of course the second home to many of the media elites in the Manhattan world of television, news, and entertainment. The likes of Matt Lauer, Martha Stewart, Kelly Ripa, and Howard Stern are all regulars to the area, and the Gin lane property requires a measly down payment of only $29,000,000 for any of you casual Mediaite readers looking to invest.
The home has 12.5 baths, 12 bedrooms, and costs $8,055 per square foot. Once sold, the property on Gin Lane may eclipse the per-acre mark set in 2014 by another Hamptons property that sold for $147 million.
That home however sat on an impressive 18 acres, offering far more real estate than its Gin Lane rival. Hedgefund manager Barry Rosenstein purchased that property which at the time was heralded as, "the most expensive home ever sold in the U.S."
Click here to view the full listing for the home at 366 & 377 Gin Lane, and please remember your favorite Mediaite writer when you are thinking of guests to invite over for the weekend.
—
J.D. Durkin (@jiveDurkey) is an editorial producer and columnist at Mediaite.
[image via StreetEasy]
Have a tip we should know? tips@mediaite.com