Hannity Goes on Easter Tirade Against 'Media Mob' For Report on Russian TV's Mueller Commentary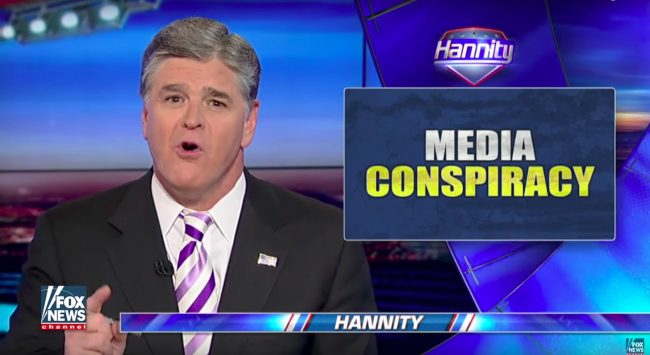 Fox News' Sean Hannity was not apparently thrilled with a story he read on Mediaite on Sunday. In fact, he was so peeved, he launched into a 13-part Twitter rant predicting hell "will freeze over before there is any honest self-reflection by the media mob."
The story in question was based on a Daily Beast report detailing how a recent opening monologue from Hannity's Fox News show was being used to talk about the Mueller report on Russian television.
The article also included a screenshot of the clip from Hannity's program appearing on Russian government-owned Rossiya 1.
Hannity was not impressed and took to Twitter to point out his commentary that has been critical of Russia.
"Maybe the Daily Beast/Mediaite could have included my numerous comments about Russia being a 'hostile regime' and Putin a 'hostile, bad actor' and how dangerous they are to our security," the Fox News host wrote on Twitter.
He then launched into his extensive polemic, including this helpful suggestion: "Maybe these lazy, overpaid, leftwing media propagandists can examine their false, politically-driven coverage the last 2+ years &examine the permanent damage they've done to the country & themselves by enabling an attempt to unseat a duly elected President of the people."
He also said this: "I predict hell will freeze over before there is any honest self-reflection by the media mob."
Read Hannity's full Easter Sunday Twitter rant below:
Have a tip we should know? tips@mediaite.com