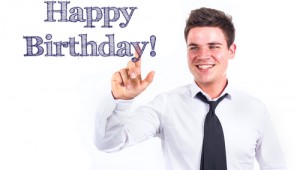 A much-contested copyright claim to the traditional song "Happy Birthday" is no longer valid, according to a federal judge in Los Angeles.
As CNBC reports, U.S. District Judge George H. King ruled that Warner Chappell Music, a division of Warner Music Group, only owns copyright on a specific arrangement of the wildly popular birthday song. Otherwise, the traditional tune and lyrics are part of the public domain.
Musician Rupa Marya and filmmaker Robert Siegel brought their suit against Warner Chappell Music in 2013, when the music publishing company tried to fine them for $1,500 for using their music for a documentary about the "Happy Birthday" tune. The pair argued that the company was earning "millions of dollars of unlawful licensing fees."
Judge King agreed, finding that the original 1935 copyright Warner Chappell boasted as their own only applied to a particular musical arrangement, and not the original song and lyrics.
Since "Happy Birthday" is officially public domain now, here are the full lyrics in all their über-detailed, four-lined glory:
Happy birthday to you
Happy birthday to you
Happy birthday dear [insert name here]
Happy birthday to you.
We can use these lyrics to wish anyone we want a happy birthday today, even if it's not actually their birthday! Why? Because it's totally legal!
So enjoy this CBS News clip of President Obama singing the song to a supporter in July 2012, guilt-free. If that doesn't work for you, here is Marilyn Monroe singing the tune to John F. Kennedy.
[h/t CNBC]
[Image via Shutterstock.com]
— —
>> Follow Andrew Husband (@AndrewHusband) on Twitter
Have a tip we should know? [email protected]