Harry Potter's Daniel Radcliffe In The Geekiest Video You Will See Today, Possibly This Week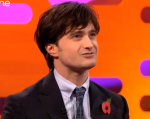 It's wonderful when a tale of bikini waxing gone awry can bring you to a moment of blissed-out geekery, and that's exactly what happened to me earlier this week when I clicked on Styleite for their Rihanna's Waxing Tale From Hell story, as told to British television presenter Graham Norton on his eponymous show. While that's certainly worth an excruciating look, for me the real gem was the next video in the YouTube chain from that program, a casual talk-show format featuring a few guests. One of those guests was Daniel Radcliffe, aka Harry Potter — aka a ginormous geek. Because the thing he wanted to do, so badly that he studied and practiced and shushed the audience for breaking his concentration, was sing Tom Lehrer's famous — and famously difficult — "The Elements Song."
If you don't know Tom Lehrer you should — in addition to being a classical pianist, mathematician, songwriter, satirist, researcher at Los Alamos and, he claims, inventor of the Jell-o shot, he is just delightfully funny and graceful. I first heard of him thanks to his song "(I'm Spending) Hanukkah In Santa Monica," which is really the only other mainstream contender to really challenge Adam Sandler (sorry, Orrin Hatch), and became a fan instantly thereafter. I also would have loved to have taken his "Mathematics For Tenors" course, even I'm more of a mezzo-soprano. At any rate — "The Elements" is not an easy song to sing, requiring the confluence of memory, linguistic dexterity and lung capacity. Fortunately our Harry has that in spades, even if this particular feat is far less Gryffindor than Ravenclaw. Geek out along with him below, and look for Rihanna to cover that on her next album (actually, that would be a killer adaptation. Kanye?). Here it is:


Whew! Sing along yourself (if you can):


…or just learn to visually identify the elements like this exceptionally Type-A videographer did: Kids these days:


…or even *more* Type A, this guy who liked Tom Lehrer but was displeased that the elements were not in order. That drove him crazy enough to rework the concept and put the elements – in order – to "We Didn't Start The Fire," complete with historical footnotes about what Mendeleev's thought process may have been ("The periodic table/Mendeleev took the atoms and he looked for patterns/The periodic table/In 1869, he published his design"). I love the Internet so, so much.


p.s. Medeleev tag FTW.
Have a tip we should know? tips@mediaite.com