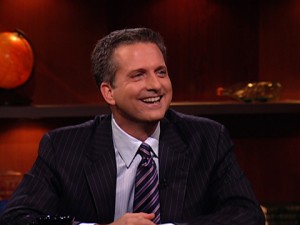 When ESPN imposed a two-week Twitter suspension on Bill Simmons last week, it sent a message that even their hottest commodities aren't exempt from controversial social media guidelines. Last week, Simmons had some harsh tweets for a Boston radio station ("deceitful scumbags") that happens to be an ESPN partner. On Thursday, the network determined that he had violated their Twitter policy and suspended him from its use for two weeks. The subsequent blog coverage was biting, as many jumped at the chance to compare Simmons to a child on timeout.
The timing of the suspension is what makes it awkward. Simmons, fresh off a wildly successful book tour that has affirmed his expanding popularity, seems to be too big of a star to be told what to do on his own Twitter. In a network full of recognizable personalities, Simmons has developed himself into a brand, and may no longer need the platform that ESPN provides.
In fact, it may be hurting him. The ability to connect with fans is important to a columnist who writes from the viewpoint of one, and even when Simmons is back to tweeting, those same fans will wonder if he'll be saying everything he wants to. His status as an ESPN employee, once an asset in attaining a wide audience, is now impeding his access to it.
With his contract expiring in 2010, Simmons may seek to make a clean break from the network. He's dropped hints in the past about trying new endeavors, saying he, "wouldn't want to be that guy [sitting on a barstool, saying how hot Anna Kournikova is] when he's 42." Simmons is now 40, and with his popularity at an all-time high, has expressed interest in starting his own site:
"Part of me can't shake the temptation of being the underdog again — like, launching my own sports site, hiring some talented writers and designers and trying to compete with the big guns."
One of those "big guns" would be ESPN.
The question for Bill Simmons in 2010 will be whether or not the platform ESPN provides, like giving him the chance to executive produce its "30 for 30" series, is enough to outweigh their occasional meddling. But looking at his current level of popularity, it may not be much of a question at all.
Have a tip we should know? tips@mediaite.com