Have You Heard? U.S. Qualifies For World Cup; Soccer Great Maradona's Website Hacked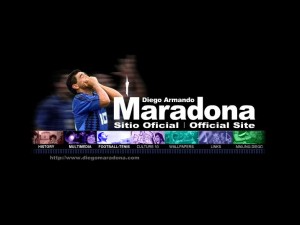 Stop me if you've heard this one before but, outside of the United States, soccer is considered the greatest game ever invented, a matter of national pride, and sometimes a reason for life and death. And in many of those places, last weekend everything literally stopped for a few hours to watch the second-to-last round of the qualifier matches for the 2010 World Cup.
By the way: Did you know that the U.S. national team qualified to its sixth consecutive World Cup by defeating Honduras 3-2 in a "mesmerizing" match?
I thought so.
Anyhow, down in South America, most of the drama centered on the fact that Argentina — one of the powerhouses of the sport and world champion in '78 and '86 — was on the verge of not qualifying to the tournament. That would mean not only a national embarrassment for the ever-confident Argentines, but also an immeasurable loss for international fans and FIFA.
At the center of this potential tragedy lies none other than the greatest idol Argentina has ever produced, Diego Armando Maradona. He, who rose from the slums to become a larger-than-life figure after leading the country to the '86 world title, was appointed coach of the national team in spite of his modest experience in the position. (The reasons for such move seem as obscure now as they did then.)
Things were not looking good for Argentina and Maradona last Saturday in Buenos Aires, when their team was tied 1-1 with Peru. But a miracle happened when they scored a goal more fit for a Hollywood movie — under a torrential rain, in overtime — maintaning their chances of qualifying in the last match.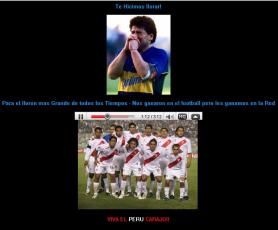 But when Maradona slid like a frat boy on the wet grass to celebrate the victory, he appeared to be thanking for his good luck rather than celebrating athletic achievement. And in Latin American soccer, where nationalism and revenge go hand in hand, it was a small victory for Peruvians, who had shaken the mighty Argentina.
So this Monday morning, a Peruvian hacker attacked Maradona's website, posting an old picture of the former player crying, rejoicing in having hurt his pride.
It was a silly prank, indeed, promptly reversed after several news organization reported on it, and Maradona probably has more important things in his head.
Yet there is some beauty in seeing the man who scored one of his most famous goals with the hand (which he dubbed the "Hand of God" after being caught) being defeated by another hand.
In our Internet-based reality, even for a few seconds, the mouse can be mightier than the sword.
Have a tip we should know? tips@mediaite.com