'He Has Our Complete Support': CNN Defends Jim Acosta Against Criticisms From Sean Spicer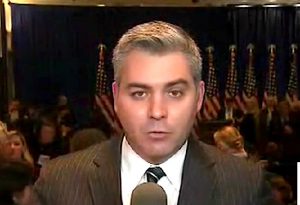 Last week, CNN reporter Jim Acosta got into a heated exchange with President-elect Donald Trump during the incoming POTUS's first press conference since late July. Trump, angry over CNN's report about him being presented with a two-page synopsis of an unsubstantiated dossier, refused to let Acosta ask a question and called him "fake news" while slamming his network.
After the presser, Acosta explained that incoming White House Press Secretary Sean Spicer had threatened to kick him out if he tried to ask another question. Following Acosta's claim, Spicer first demanded the senior White House correspondent apologize for being "rude" and "disrespectful."
Then yesterday, during an appearance on Fox News' MediaBuzz, Spicer again took aim at Acosta, affirming that he did warn Acosta at the news conference, likening him to a disruptive protester. He also added that Acosta misrepresented their conversation and said the reporter needed to take responsibility for his actions.
In response to these criticisms of Acosta by Spicer, a CNN spokesperson responded today, making it known that they stand by their employee. Below is a statement from the network:
"As we have learned many times, just because Sean Spicer says something doesn't make it true. Jim Acosta is a veteran reporter with the utmost integrity and extensive experience in covering both the White House and the President-elect. Being persistent and asking tough questions is his job, and he has our complete support."
Besides the direct attacks on reporters and outlets by the incoming Trump Administration, the transition team has discussed potentially handing the way press briefings will be handled at the White House. In a report by Esquire, one senior official called the media an "opposition party" and that the press room might be moved out of the White House.
[image via screengrab]
–
Follow Justin Baragona on Twitter: @justinbaragona
Have a tip we should know? tips@mediaite.com