On We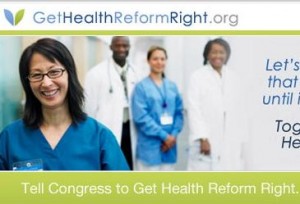 dnesday, Business Insider reported that Facebook users were being plied with virtual cash (for games like Mafia Wars) to email their Senators to oppose a public health insurance option. The health insurance industry-backed website to which the ads directed users, Get Health Reform Right, is down today. We contacted the Blue Cross and Blue Shield Association, who runs the site, to find out why.
Players of social media games like Mafia Wars need money within the games in order to advance and win. Business Insider explains how they can do that without "earning" it in the game or paying for it with real money:
By accepting offers from third-parties — usually companies like online movie rentals service Netflix — who agree to give the gamer virtual currency so long as that gamer agrees to try a product or service. This is done through an "offers" provider — a middleman that brings the companies like Netflix, the Facebook gamemakers, and the Facebook gamemaker's users together.

It's this third method that an anti-reform group called "Get Health Reform Right" is using to pay gamers virtual currency for their support.
After the report ran, Get Health Reform Right suspended the site (you can see the cached page here) with the following explanation:
Because of unauthorized use of the Get Health Reform Right name and logo, we have temporarily suspended the Get Health Reform Right website.
The Blue Cross and Blue Shield Association runs the website, and they say they had nothing to do with the ads. In a written statement, they said:
"Get Health Reform Right does not pay or incentivize people in any way to communicate to Congress their opposition to government-run healthcare. Under the terms of the contract with the advertising network, it explicitly states that no such incentivized ads may be used. Get Health Reform Right activities have been temporarily suspended until the source of these ads can be determined."
BCBSA spokesman Jeff Smokler told Mediaite that the advertising network they use, WebClients of Harrisburg, Pa, has confirmed to them that they did not use any incentivized ads. "We're investigating the use of Facebook to determine how this happened, but we're not responsible for it, and we're looking forward to finding out who is."
I asked if it was possible that a subcontractor of Webclients was responsible. He said "Webclients uses blocking software to prevent any incentivized publishers from delivering incentivized leads, and the blocking was working on the site consistently."
Smokler says they anticipate putting the website back up "shortly." The association's legal counsel is contacting Facebook to advise them that they suspect this is a case of fraud.
As Business Insider points out, "astroturfing" is not illegal, but it does apparently carry enough of a stigma for BCBSA to take extraordinary steps, like shutting down the Get Health Reform Right website, to distance itself from it.
Have a tip we should know? tips@mediaite.com