Heartwarming Video of Guys Giving Money to Fast Food Workers Actually Has Gross Backstory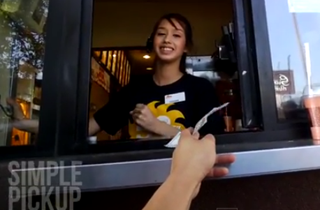 Today, you may have seen a sweet, feel-good video where two guys go around town and tip hundreds of dollars to astonished minimum wage fast-food workers. The media has, for sure — Business Insider called it "surprising and heartwarming," and the video's racked up nearly a half million hits.
However, it's not exactly an altruistic move, so much as it is a PR stunt to make up for a really, really skeevy thing that the video's creators did a few months ago.
Simple Pickup, the guys behind the video, generally make videos in which they teach men how to "pick up" women — and by "pick up," we mean, as the Daily Dot describes it, that they borderline assault them as a prank:
In a video about Comic-Con, Kong asks a woman in costume if he can motorboat her breasts. When she says no, he does it anyway. In another, a woman asks to be left alone, and the camera pans down and zooms in on the butt crack peeking out of her shorts…
In the controversial massage video, he sits down on a sunbathing girl's back so that she can't get up. Many of the women jump when they feel a stranger touching them.
In the video, the guys say that the reason they're flush with cash is because a charity had returned it to them. There's some backstory there: a few months ago, Simple Pickup attempted to raise money to fight genital mutilation by bringing a giant sex toy to a public beach and offering to donate money for every woman who rode it, as well as $100 to every 100,000 viewers who saw the video.
This really did not please the charity they wanted to donate to: a representative for the Orchid Project told the Huffington Post that they wouldn't accept any money from the stunt. "The average age of cutting is between 5 and 8 years and so sexual imagery is not appropriate," they wrote in a lengthy response to the video. "We do not want to shy away from the long term physical and mental health issues FGC causes, but rather to say that from our point of view, this is not the best way to draw attention to these."
The Orchid Project noted that they hadn't heard from the men of Simple Pickup about what they planned to do with the money, but it seems pretty obvious that they picked a new hot-button issue — in this case, income inequality — and then turned that into a blatantly manipulative video for the sake of feel-good clicks. Which goes to show you: there are people out there who manage to turn important issues into profitable sources of income. (Hey, they could go work for Upworthy.)
So now watch this video, and then have your humanity crushed by the fact that it's a blatant PR grab for sympathy clicks:

[h/t Business Insider]
[Image via screenshot]
—
>> Follow Tina Nguyen (@Tina_Nguyen) on Twitter
Have a tip we should know? tips@mediaite.com