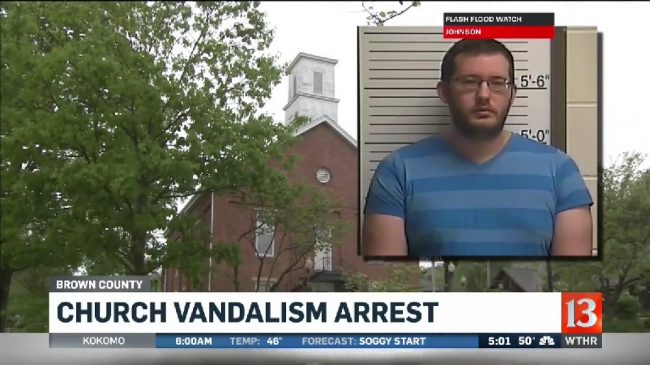 Prosecutors in Indiana charged George Nathaniel Stang of Bloomington with vandalism in connection with Nazi-themed graffiti on an Episcopalian church days after the election of President Donald Trump. Stang is the church's organist, and admitted he did it as "a reason to fight for good even if it was a false flag."
WTHR-TV, NBC's affiliate in Indianapolis, reported on Wednesday that "Stang told everyone he discovered the graffiti when he arrived for Sunday morning services" less than a week after Election Day. The slogans "Heil Trump" and "Fag Church," along with a swastika, were painted on the church's property. Local residents initially "suspected the KKK or some other hate group was responsible for the graffiti."
National news media outlets covered the vandalism at the time, in the wake of the contentious presidential race.
During their investigation, law enforcement "immediately suspected the crime was committed by someone familiar with the church. They said cell phone records put Stang in the area Saturday night."
Police subsequently confronted Stang with this evidence, who confessed and revealed his intent was to "mobilize a movement after being disappointed in and fearful of the outcome of the national election."
If the Bloomington resident is convicted of the vandalism, he "could be sentenced to a year in jail and fined as much as $5,000," according to the NBC affiliate's report.
The Indianapolis Star interviewed Stang on Wednesday, and he outlined that during the week of the election, "I was fearful, scared and alone, too, in my fear. I guess one of the driving factors behind me committing the act was that I wanted other people to be scared with me."
[image via screengrab]
Have a tip we should know? tips@mediaite.com