Here Are the Five Most Insane Takeaways From The New Yorker's Weinstein Report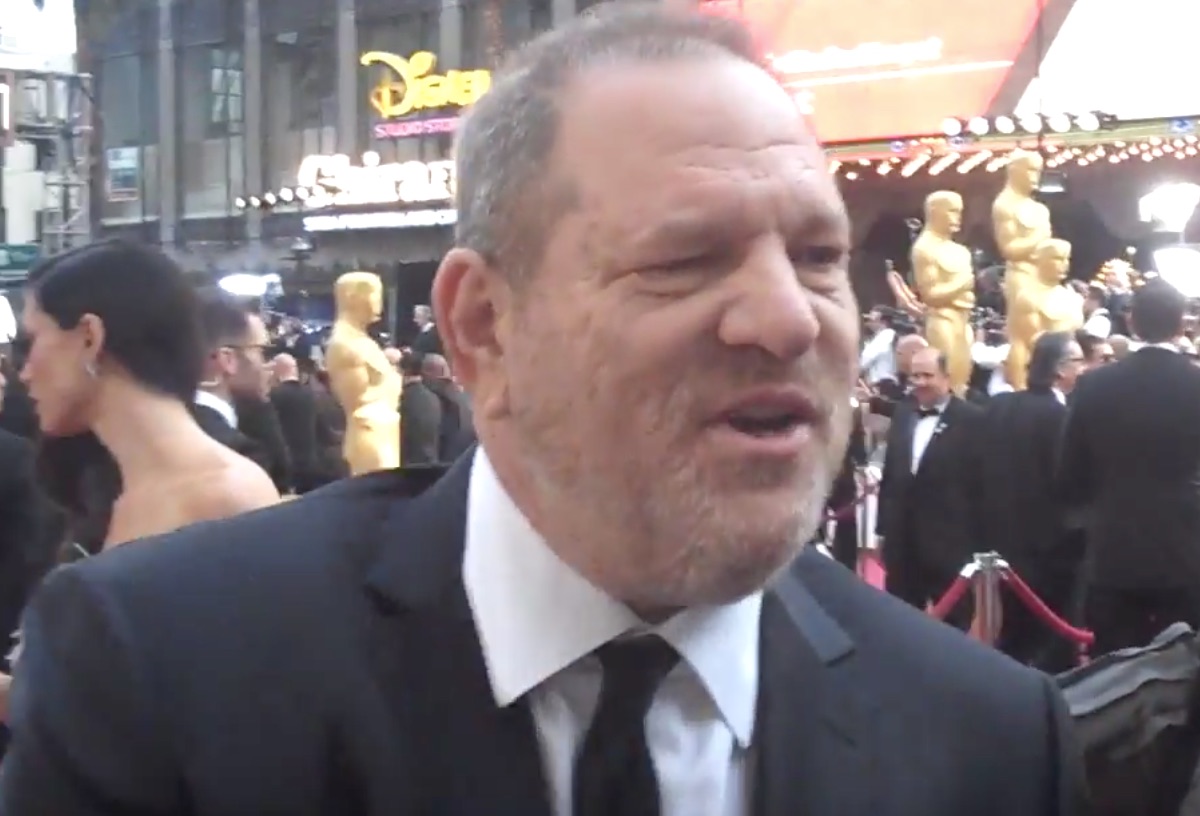 The latest report on Harvey Weinstein is nothing short of a bombshell, and it provides a new look at how far he went to prevent his alleged behavior from coming to light.
Last month, Ronan Farrow released a major blockbuster when he unveiled an exposé on multiple women who have accused the Hollywood giant of rape. Tonight, Farrow's new profile (which is more like a spy novel than anything else) explores Weinstein's efforts to silence his victims and find blackmail on anyone who threatened to expose him.
There's a lot to take away from all of this, but here are some of the most shocking details we took from the new information:
Weinstein Hired Private Investigators, Ex-Spies to Suppress Allegations
Rose McGowan has been a prominent factor for the Weinstein scandal since she was one of the first, most prominent accusers who reached a settlement with Weinstein over his alleged behavior. According to the new report, Weinstein hired private corporate intelligence agencies last year, ordering them spy on McGowan and other women who would later make accusations against him.
The firms that Weinstein hired included Kroll, one of the world's largest corporate intelligence companies, and Black Cube, an enterprise run largely by former officers of Mossad and other Israeli intelligence agencies.

Two private investigators from Black Cube, using false identities, met with the actress Rose McGowan, who eventually publicly accused Weinstein of rape, to extract information from her. One of the investigators pretended to be a women's-rights advocate and secretly recorded at least four meetings with McGowan. The same operative, using a different false identity and implying that she had an allegation against Weinstein, met twice with a journalist to find out which women were talking to the press. In other cases, journalists directed by Weinstein or the private investigators interviewed women and reported back the details.
Weinstein Directed Efforts to Kill Accusation Stories from NYT, New York Magazine
Weinstein was particularly determined to stop outlets The New York Times and The New Yorker from publishing information they had about his alleged behavior. He had employees from his various film enterprises squash inquiries into his personal affairs, and he also had lawyer David Boies lead his effort to prevent The Gray Lady from reporting what they knew.
In some cases, the investigative effort was run through Weinstein's lawyers, including David Boies, a celebrated attorney who represented Al Gore in the 2000 Presidential-election dispute and argued for marriage equality before the U.S. Supreme Court. Boies personally signed the contract directing Black Cube to attempt to uncover information that would stop the publication of a Times story about Weinstein's abuses, while his firm was also representing the Times, including in a libel case.

Boies confirmed that his firm contracted with and paid two of the agencies and that investigators from one of them sent him reports, which were then passed on to Weinstein. He said that he did not select the firms or direct the investigators' work. He also denied that the work regarding the Times story represented a conflict of interest. Boies said that his firm's involvement with the investigators was a mistake. "We should not have been contracting with and paying investigators that we did not select and direct," he told me. "At the time, it seemed a reasonable accommodation for a client, but it was not thought through, and that was my mistake. It was a mistake at the time."
And here's the time where Weinstein tried to stop a New York Magazine story through a combination of blackmail and having one of his operatives pose as a source.
"In a series of e-mails sent in the weeks before Wallace received the call from Anna, Dan Karson, of Kroll, sent Weinstein preliminary background information on Wallace and Moss. "No adverse information about Adam Moss so far (no libel/defamation cases, no court records or judgments/liens/UCC, etc.)," Karson wrote in one e-mail. Two months later, Palladino, the psops investigator, sent Weinstein a detailed profile of Moss. It stated, "Our research did not yield any promising avenues for the personal impeachment of Moss."

Similar e-mail exchanges occurred regarding Wallace. Kroll sent Weinstein a list of public criticisms of Wallace's previous reporting and a detailed description of a U.K. libel suit filed in response to a book he wrote, in 2008, about the rare-wine market. psops also profiled Wallace's ex-wife, noting that she "might prove relevant to considerations of our response strategy when Wallace's article on our client is finally published."
Weinstein's Agents Posed as Advocates, Had Front Companies to Cover Operations
Months ago, McGowan was contacted by a "Diana Filip," a representative for an English wealth firm who wanted to set up a partnership for a women's-rights advocacy project. However, "Filip" was actually under Weinstein's employ, and she "began pressing McGowan for information" after learning that the actress spoke to Farrow for a report about Weinstein.
"Filip continued to meet with McGowan. In one meeting in September, Filip was joined by another Black Cube operative, who used the name Paul and claimed to be a colleague at Reuben Capital Partners. The goal, according to two sources with knowledge of the effort, was to pass McGowan to another operative to extract more information. On October 10th, the day The New Yorker published my story about Weinstein, Filip reached out to McGowan in an e-mail. "Hi Love," she wrote. "How are you feeling? . . . Just wanted to tell you how brave I think you are." She signed off with an "xx." Filip e-mailed McGowan as recently as October 23rd.

In fact, "Diana Filip" was an alias for a former officer in the Israeli Defense Forces who originally hailed from Eastern Europe and was working for Black Cube, according to three individuals with knowledge of the situation. When I sent McGowan photos of the Black Cube agent, she recognized her instantly. "Oh my God," she wrote back. "Reuben Capital. Diana Filip. No fucking way."
"Filip" spoke to other reporters under a different alias, and based on Farrow's reporting, it seems that the management firm she worked for was actually created by Black Cube to cover their workers.
Weinstein Hired Investigative Journalists to Interview, Collect Information from Accusers
Black Cube reportedly exchanged information with journalists who spoke to McGowan and two other women who made accusations against Weinstein. Weinstein himself exchanged emails with Dylan Howard, the chief content officer of the National Enquirer's publishing company, and they talked about how they could use the material they had to discredit McGowan.
In subsequent e-mails to Weinstein, Howard said, "I have something AMAZING . . . eventually she laid into Rose pretty hard." Weinstein replied, "This is the killer. Especially if my fingerprints r not on this." Howard then reassured Weinstein, "They are not. And the conversation . . . is RECORDED." The next day, Howard added, in another e-mail, "Audio file to follow." (Howard denied sending the audio to Weinstein.) Avellan told me that she would not have agreed to coöperate in efforts to discredit McGowan. "I don't want to shame people," she said. "I wasn't interested. Women should stand together."

In a statement, Howard said that, in addition to his role as the chief content officer at American Media Inc., the National Enquirer's publisher, he oversaw a television-production agreement with Weinstein, which has since been terminated. He said that, at the time of the e-mails, "absent a corporate decision to terminate the agreement with The Weinstein Company, I had an obligation to protect AMI's interests by seeking out—but not publishing—truthful information about people who Mr. Weinstein insisted were making false claims against him. To the extent I provided 'off the record' information to Mr. Weinstein about one of his accusers— at a time when Mr. Weinstein was denying any harassment of any woman—it was information which I would never have allowed AMI to publish on the internet or in its magazines."
Weinstein Had Operatives Dig Up Dirt, Build Unflattering Profiles on Reporters
Weinstein had multiple intelligence firms working for him, and he used them to investigate various journalists and cover his bases after several of his legal settlements with his harassers. Multiple reporters who covered Weinstein over the years recalled feelings of being watched, and Farrow reported on the existence of extensive profiles that could undermine the credibility of Weinstein's enemies.
"For years, Weinstein had used private security agencies to investigate reporters. In the early aughts, as the journalist David Carr, who died in 2015, worked on a report on Weinstein for New York, Weinstein assigned Kroll to dig up unflattering information about him, according to a source close to the matter. Carr's widow, Jill Rooney Carr, told me that her husband believed that he was being surveilled, though he didn't know by whom. "He thought he was being followed," she recalled. In one document, Weinstein's investigators wrote that Carr had learned of McGowan's allegation in the course of his reporting. Carr "wrote a number of critical/unflattering articles about HW over the years," the document says, "none of which touched on the topic of women (due to fear of HW's retaliation, according to HW)."
[Image via screengrab]
— —
>> Follow Ken Meyer (@KenMeyer91) on Twitter
Have a tip we should know? tips@mediaite.com