Bombshell Report: Weinstein Hired 'Spies' to 'Collect Information' on Women, Journos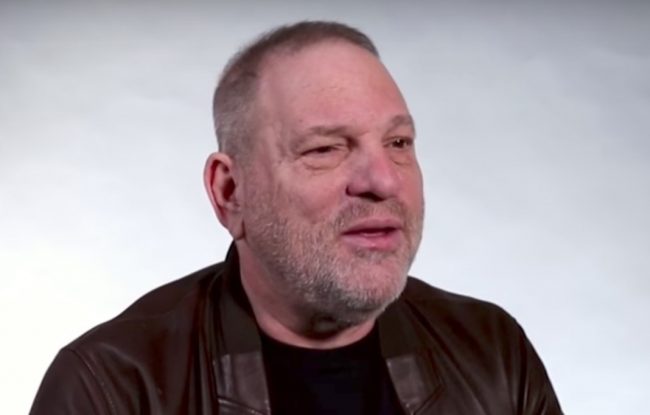 Ronan Farrow's latest report for The New Yorker on Harvey Weinstein reveals, in disturbing detail, how the disgraced Hollywood bigwig allegedly hired private security agencies to track and collect information on not just women with allegations against him, but journalists.
Rose McGowan was approached by two separate private investigators. One of them, who said her name was Diana Filip, met with McGowan a number of times under the guise of her supposed "initiative to combat discrimination against women in the workplace."
As Farrow writes, she was "pressing McGowan for information." And one week after McGowan mentioned she had spoken to Farrow, Farrow himself received an email from this same person.
It turns out this particular individual was apparently from a private intelligence agency called Black Cube:
In fact, "Diana Filip" was an alias for a former officer in the Israeli Defense Forces who originally hailed from Eastern Europe and was working for Black Cube, according to three individuals with knowledge of the situation. When I sent McGowan photos of the Black Cube agent, she recognized her instantly. "Oh my God," she wrote back. "Reuben Capital. Diana Filip. No fucking way."
Farrow cites "dozens of pages of documents, and seven people directly involved in the effort" to reveal that Weinstein hired Black Cube ("an enterprise run largely by former officers of Mossad and other Israeli intelligence agencies"), Kroll, and several other private security agencies to "collect information on the women and the journalists trying to expose the allegations":
Over the course of a year, Weinstein had the agencies "target," or collect information on, dozens of individuals, and compile psychological profiles that sometimes focussed on their personal or sexual histories. Weinstein monitored the progress of the investigations personally. He also enlisted former employees from his film enterprises to join in the effort, collecting names and placing calls that, according to some sources who received them, felt intimidating…

Two sources familiar with the agency defended its decision to work for Weinstein, saying that they originally believed that the assignment focused on his business rivals. But even the earliest lists of names that Weinstein provided to Black Cube included women with allegations and journalists.
Another firm Weinstein hired reportedly sent Weinstein a report on McGowan "with sections labeled 'Lies/Exaggerations/Contradictions,' 'Hypocrisy,' and 'Potential Negative Character Wits,' an apparent abbreviation of 'witnesses.'"
And then there's the targeting of journalists.
"Diana Filip" also apparently met with New York Magazine reporter Ben Wallace "when he had been working on the Weinstein story for about a month and a half":
Over the course of the two meetings, Wallace grew increasingly suspicious of her motives. Anna seemed to be pushing him for information, he recalled, "about the status and scope of my inquiry, and about who I might be talking to, without giving me any meaningful help or information." During their second meeting, Anna requested that they sit close together, leading Wallace to suspect that she might be recording the exchange. When she recounted her experiences with Weinstein, Wallace said, "it seemed like soap-opera acting."
But before he received the first call, Weinstein had reportedly been given "preliminary background information" not just on Wallace, but on magazine editor-in-chief Adam Moss:
In a series of e-mails sent in the weeks before Wallace received the call from Anna, Dan Karson of Kroll sent Weinstein preliminary background information on Wallace and Moss. "No adverse information about Adam Moss so far (no libel/defamation cases, no court records or judgments/liens/UCC, etc.)," Karson wrote in one e-mail. Two months later, Palladino, the psops investigator, sent Weinstein a detailed profile of Moss. It stated, "Our research did not yield any promising avenues for the personal impeachment of Moss."

Similar e-mail exchanges occurred regarding Wallace. Kroll sent Weinstein a list of public criticisms of Wallace's previous reporting and a detailed description of a U.K. libel suit filed in response to a book he wrote, in 2008, about the rare-wine market. psops also profiled Wallace's ex-wife, noting that she "might prove relevant to considerations of our response strategy when Wallace's article on our client is finally published."
Farrow also reveals how one firm had sent Weinstein "an assessment of my own interactions with 'persons of interest'—a list largely consisting of women with allegations, or those connected to them."
A spokesperson for Weinstein told The New Yorker, "It is a fiction to suggest that any individuals were targeted or suppressed at any time."
You can read the full, shocking report here.
[image via screengrab]
— —
Follow Josh Feldman on Twitter: @feldmaniac
Have a tip we should know? tips@mediaite.com
Josh Feldman - Senior Editor