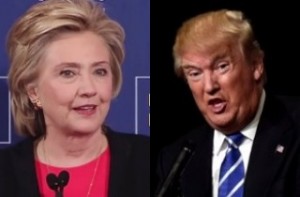 The major TV and web outlets have all assembled a large collection of talent to break down the election returns tonight. Here's a quick summary of who is set to appear:
Mediaite's live election night webcast begins at 5:00 p.m. ET, in tandem with our sister site, LawNewz. Dan Abrams, Rachel Stockman, and J.D. Durkin will anchor the coverage. Sam Reisman will be live at Donald Trump headquarters, while Lindsey Ellefson will be reporting from Hillary Clinton headquarters. Ronn Blitzer of LawNewz will contribute from the studio, and various special guests will join the broadcast throughout the night.
As for the broadcast networks, CBS will have a roundtable setup with a cast including; Scott Pelley, Norah O'Donnell, Charlie Rose, Gayle King, Elaine Quijano, John Dickerson, and Bob Schieffer. Major Garrett will be live at Trump headquarters, while Nancy Cordes will cover the happenings at Clinton headquarters.
George Stephanopoulos will be in the pilot seat for ABC tonight. He'll be joined by David Muir, and Martha Raddatz. Robin Roberts will be with Clinton. Amy Robach will be with Trump.
NBC will have Lester Holt, Savannah Guthrie, Chuck Todd and Tom Brokaw at their main desk. Andrea Mitchell will cover Clinton headquarters. Katy Tur will be with Trump.
The FOX broadcast team will be led by Shepherd Smith, with Chris Wallace among those who will be bouncing back-and-forth between FOX and Fox News.
As for the cablers, CNN will have a quartet of anchors; Dana Bash, Wolf Blitzer, Anderson Cooper, and Jake Tapper. The network will have their usual cast of thousand pundits at the ready; led by David Axelrod.
Fox News will have Megyn Kelly and Bret Baier co-anchoring coverage. Carl Cameron and John Roberts will be at Trump headquarters. Mike Emanuel and Jennifer Griffin will be with Clinton.
MSNBC will feature a troika of anchors; Brian Williams, Rachel Maddow and Chris Matthews. They will have reports from Mitchell and Tur with the respective campaigns.
[image via screengrab]
Have a tip we should know? tips@mediaite.com