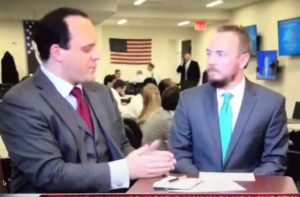 The first installment of Trump TV aired tonight! So how'd it go?
Trump today announced the first installment of a nightly Facebook live newscast, hosted by two of his own campaign advisors and one of his biggest fans.
The show hosted by Cliff Sims and Boris Epstein, the latter saying they're "excited to be bypassing the left-wing media."
Their two exclusive guests were Trump campaign manager Kellyanne Conway and RNC communications director Sean Spicer. (I know, I know, big gets.)
And then Tomi Lahren, herself a big Facebook presence and a massive Trump fan, delivered one of her trademark political rants for Trump and against Clinton.
The main thrust of Trump TV, it seems, is answering the question "What would happen if a team of people who like Donald Trump got to say whatever they wanted for 45 minutes without anyone challenging them on anything?"
One big thing they played up a lot on the livecast was another video from Project Veritas about Clinton wanting "ducks on the ground" and activists making it happen.
Observers reacted about how you'd expect:
Trump campaign averaging 50-60,000 viewers for Facebook Live stream. Big by Facebook standards, very low by TV standards pic.twitter.com/9MwfYeFq9y

— Brian Stelter (@brianstelter) October 24, 2016
I honestly do not have it in me to start accepting that Trump TV is going to be a thing.

I cannot give it space in my brain. https://t.co/1uSqzZdUib

— Carlos Maza (@gaywonk) October 24, 2016
I can say definitely that Roger Ailes is not yet involved in Trump TV because what we are watching right now is terrible.

— Jamie Weinstein (@Jamie_Weinstein) October 24, 2016
So Sean Spicer is going on inaugural episode of Trump TV on Facebook so RNC apparently okay with GOP apparatus being used like this

— Shane Goldmacher (@ShaneGoldmacher) October 24, 2016
We are now seeing Hillary Clinton accused of ordering people dressed as ducks to incite violence at Trump rallies on Trump TV

— Ben Jacobs (@Bencjacobs) October 24, 2016
[image via screengrab]
— —
Follow Josh Feldman on Twitter: @feldmaniac
This is an opinion piece. The views expressed in this article are those of just the author.
Josh Feldman - Senior Editor