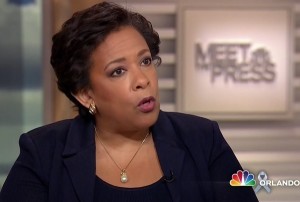 The release of transcripts from the Orlando mass shooter's communications with police, with the word "ISIS" replaced by the notation [omitted], has been greeted with puzzlement at best, and derision at worst, but prior to the release, Attorney General Loretta Lynch explained the rationale behind the redactions. In an interview with Meet the Press, Attorney General Lynch previewed the contents of the release by telling Chuck Todd that they would feature "partial transcripts," in some kind of attempt to counter their propaganda value:
LORETTA LYNCH: Yes. It will be primarily a partial transcript of his calls with the hostage negotiators.

CHUCK TODD: You say partial. What's being left out?

LORETTA LYNCH: Well, what we're not going to do is further proclaim this individual's pledges of allegiance to terrorist groups and further his propaganda.

CHUCK TODD: So we're not going to hear him talk about those things?

LORETTA LYNCH: We will hear him talk about some of those things, but we're not going to hear him make his assertions of allegiance and that. This will not be audio. This will be a printed transcript. But it will begin to capture the back and forth between him and the negotiators. We're trying to get as much information about this investigation out as possible. As you know, because the killer is dead, we have a bit more leeway there. And so we will be producing that information tomorrow.
While the move has prompted mockery by conservatives on Twitter, even left-leaning Slate is mystified by the move, which it calls a "self-inflicted political wound" that resurrects a conservative argument about the language around terrorism just as the President and Hillary Clinton seemed to have won it last week:
A noble goal, perhaps, but … can't ISIS's crack Microsoft Word operatives just copy and paste the transcript above and then find-replace "ISIS" where it says "omitted"? Aren't all the articles about this going to include the phrase "Mateen pledged allegiance to ISIS" regardless? And, just, why would you do this when you know it's going to trigger a contrived controversy that obscures your actual understanding of the issues involved and creates a nuisance for the presidential candidate who's vowing to carry on your legacy?
Conservatives on Twitter were far less kind. On Monday afternoon, the Department of Justice released the unredacted version of the transcript.
Have a tip we should know? tips@mediaite.com