'He's a Liar': Mob Associate's Daughter Recalls Helicopter Rides, Cozy Relationship with Trump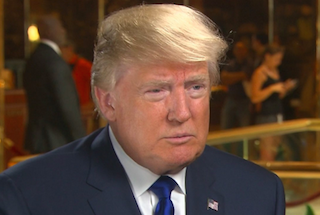 Throughout its run, Donald Trump's campaign has been dogged by questions over whether he and his companies ever had ties to organized crime. By the account of a new report, however, Trump was at least familiar with a racist mobster who gambled at his casinos and frequented major events of his.
Edith Creamer is the daughter of Robert LiButti, who was known in his time as a horse-breeder who had an affiliation with mafia boss, John Gotti. Creamer gave an interview to Yahoo!, where she begged to differ over Trump's claims to not know her dad.
"He's a liar. Of course he knew him. I flew in the [Trump] helicopter with [Trump's then wife] Ivana and the kids. My dad flew it up and down [to Atlantic City]. My 35th birthday party was at the Plaza and Donald was there. After the party, we went on his boat, his big yacht. I like Trump, but it pisses me off that he denies knowing my father. That hurts me."
Beyond any friendly relationships, the report examined how Trump knew of LiButti because of his connection to a $200K fine that his organization took in 1991. The fine stemmed from a series of questionable demands LiButti made as he spent time in Trump Plaza.
LiButti was on New Jersey's blacklist at the time, but he was still allowed into Trump's establishment to play craps. State regulators were looking into this, as well as allegations from staffers that they were asked to remove African-Americans and women from the tables while LiButti played. One court filing describes how LiButti was prone to vulgar tirades when he lost, and how he casually hurled insults like "dumb c*nt," "black bastard," and "Jew broad."
Trump denied knowing LiButti at the time, and he was not held personally liable for his hotel's violations. Trump's campaign offered this response to the story in an email to Yahoo:
"During the years I very successfully ran the casino business, I knew many high rollers. I assume Mr. LiButti was one of them, but I don't recognize the name."
[image via screengrab]
Have a tip we should know? tips@mediaite.com