Hey, Fox Hosts: Geraldo Is Right to Compare Hate Crimes to Violent Protesters, So Let Him Speak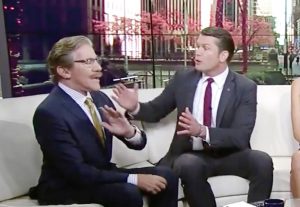 Last night during an appearance on Fox News, Geraldo Rivera told Bill O'Reilly that his montage of anti-Donald Trump protest violence was missing something: pictures and footage of the racist incidents that have been happening across the country since Trump won the election, especially in schools. O'Reilly brushed him off, saying that there could be no equating "millions of dollars of destruction" with hate speech and going so far as to say that it's individual "loons" who do things like hang "colored people" signs above certain water fountains or add students of color to racist group chats.
If O'Reilly recognized the irony in dismissing those "disturbed individuals" but not the individuals who have gotten violent in demonstrations that have featured thousands upon thousands of peaceful protesters, he didn't show it.
Undaunted, Rivera tried again this morning on Fox & Friends. The conversation went almost exactly as it had 12 hours before: He told a story of being unable to cross Manhattan's 6th Avenue with his wife Wednesday, condemned violence in protests, and then skillfully pivoted to address the racist incidents that have been being reported almost constantly since Tuesday's election. Specifically, he mentioned reports of white students yelling "White power!" and changing "Build the wall!" in their schools, saying it was "the other thing that is just as horrible" to him.
He was interrupted.
Pete Hegseth jumped in with, "But you're not apples-to-appling here. We're looking at businesses being burned down, we're looking at things being thrown at cops — "
Rivera stood firm, insisting, "A hateful act is a hateful act whether it's [violent protest] or someone shouting 'white power!'"
Good on Rivera. He absolutely should have stood his ground here as O'Reilly and Hegseth made their case that property damage is a bigger deal than explicit racism. The destruction of a building shocks them more than an attack on a student of color that is designed to make them feel unsafe in their own school. Shame on O'Reilly, shame on Doocy, and shame on anyone who tries to pretend that a building is worth more than a child's security. No, shame on anyone who pretends that a building is worth more than a person's security.
Rivera was very clear in his denunciation of violence during protests and as a man who has been arrested for protesting, he would know better than many of the elites on cable news what it feels like to demonstrate in an environment that can become hostile at the will of one or two, as O'Reilly said, "individual loons." The entire reason people even are protesting right now is that they feel unsafe in their own country, their own towns, their own schools, their own bodies, etc.
Many minorities feel unsafe. Many women feel unsafe. A person only has to look at the reactions the protests have garnered to see why. Neo-Nazi sites have called on readers to target anyone who has mentioned being "scared" and torment them to suicide. Ann Coulter leveled nasty comments at women who dared demonstrate against a President-elect who lost the popular vote and is still facing down numerous accusations of sexual assault. Those actions are meant to silence anyone who dares to speak up.
In some cases, that approach works. Make no mistake, the attempt to suppress certain sentiments works and it works well. For every young girl who hesitates to protest for fear of being called fat by Ann Coulter in front of millions of online followers, though, there is one who is so enraged by the pundit's low blows that she decides to protest even when she didn't want to before.
O'Reilly and Hegseth should be careful. Sending the clear message that buildings are simply more important than real, live human beings who feel afraid and vulnerable only proves that those people do have something to fear. They have erasure, invalidation, and dehumanization to fear. Reinforcing the same ideas that people are protesting is not a good strategy for anyone who hopes to get the protests to end. Listening to the fears and concerns of the protesters, on the other hand, is a good strategy, so when a correspondent is bringing those fears and concerns to the table and attempting to inject them into the national conversation that cable news is very much in charge of directing, everyone had better be quiet and let him speak.
Geraldo Rivera should continue to speak up about blatant, shameless racism. If and when he does, he should know that he is supported by the level-headed and compassionate because he is right when he says that no form of violence is ever acceptable. The destruction of property is unacceptable. Terrorizing people is even more unacceptable. Interestingly, Hegseth was right in that we are not "apples-to-appling" here, just not in the way he intended; we are apples-to-oranging because human value far outweighs that of bricks and mortar.
Hegseth expressed concern that protests could continue into this weekend, but at the rate hate crimes and racist acts are being reported in the days after the election of a man who was quite literally endorsed by the Ku Klux Klan, the real concern must be the safety of minorities, not buildings.
[image: screengrab]
— —
This is an opinion piece. The views expressed in this article are those of just the author.