The Internet has been mourning the loss of the viral "Hey Girl, It's Paul Ryan" Tumblr since the site's owners decided to close up shop three months ago, but the ladies behind the Paul Ryan meme purveyor resurrected the blog in light of Mitt Romney's highly-anticipated vice presidential selection.
The "Hey Girl, It's Paul Ryan" women wrote in a Saturday morning post of the news:
"HEY GIRL, IT'S YOUR REPUBLICAN VICE PRESIDENTIAL NOMINEE.

WHAT. The. WHAT.

Your gracious Hey Girl, It's Paul Ryan hosts will be gladly accepting bubbly alcoholic beverages, prior even to 10am, in celebration of the success of our one and only."
As to be expected, the girls included a few new memes: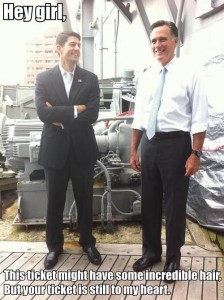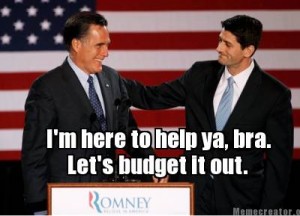 "Hey Girl, It's Paul Ryan" made headlines at the beginning of the summer but stopped being updated once Ryan himself acknowledged the blog during a radio appearance. When the show host said he had plans to drive lots of traffic to the blog, Ryan laughed and said, "No, no. We're good. Please don't do that." That was when the ladies behind the blog chose to part ways with it, telling me over at The Jane Dough:
"The decision to end the site was based partly on the fact that we'd gotten a response [from Ryan] and partly because we wanted to end on a funny note. Our original intention was to not only do a little Ryan-worshipping, but also to inject some fun into an otherwise dreary topic. It turns out our message resonated, especially among women, but with politics, the window of opportunity is small and its not long before things become stale. We definitely hope he and his staff enjoyed the site – and it seems they did – but we wanted to make sure we didn't begin to interfere with more pressing issues or coverage. Plus, it was starting to become a full time job!"
We still haven't heard back from the "Hey Girl, It's Paul Ryan" founders about whether they'll keep the site up and running for good, but let's be real: they'd be crazy not to.
UPDATE: One of the masterminds of "Hey Girl, It's Paul Ryan" told Mediaite in a statement about the future of the blog:
"Right now we're playing it by ear. We're relishing the chance to have a little more fun, and we're excited with the response we're getting."
Have a tip we should know? tips@mediaite.com