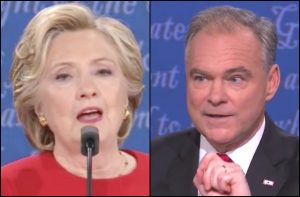 In last week's presidential debate, Republican presidential candidate Donald Trump and his Democratic opponent Hillary Clinton interrupted each other several times, with Trump interrupting more than twice as often. Now, interruptions are common in modern presidential debates (although they didn't use to be). But many in the media diagnosed the real reason the ratio was so lopsided.
Debating while female, in one graphic. pic.twitter.com/lAhA5adcUe

— Sarah Kliff (@sarahkliff) September 27, 2016
Trump interrupted Clinton 51 times at the debate — a very familiar pattern for women https://t.co/UHGGYiRl5H via @cnbcmakeit

— CNBC (@CNBC) October 3, 2016
There is no working woman in America who doesn't recognize the pattern of interruption that Trump is using against Clinton. #debates

— Laila Lalami (@LailaLalami) September 27, 2016
.@johnpodesta: Trump's "constant interruption" of Clinton "reminiscent of the way a lot of women feel about boys in their lives" pic.twitter.com/ipWUcXRxlz

— ABC News Politics (@ABCPolitics) September 27, 2016


Remarkably few of these hot takes stopped to consider that maaaaaybe Trump interrupted so often because he's brash and obnoxious in general, and gender had nothing to do with it. One has to wonder if any of these supposed wonks watched the Republican primary debates, where Trump talked over and interrupted a host of male candidates. But nope, it was definitely sexism, end of story.
Flashforward to Tuesday's vice presidential debate, and suddenly the script was flipped. Clinton's running mate Tim Kaine manterrupted Trump's running mate Mike Pence a whopping 72 times, mansplaining over twenty times more often than Trump's definitely-sexist debate performance, presumably while manspreading behind the podium.
Watch all the microagressions below, courtesy of the GOP.
Kudos to the too-often-lackluster Trump campaign rapid response for immediately pointing out the double standard and trolling Kaine. But even New York Times reporters were mocking the initial accusations of sexism during the debate.
Is it sexist when Kaine interrupts Pence constantly or just what debaters do to win debates?

— Nick Confessore (@nickconfessore) October 5, 2016
I realize there are very good reasons to be sensitive about the way Donald Trump speaks to women, but Kaine's own debate performance is proof positive that Trump's treatment of Clinton was par for the course. And really, given how much ammunition he's given Democrats just in the past year, I don't understand the need to invent sexism where none exists.
[Images via screengrab]
—
>>Follow Alex Griswold (@HashtagGriswold) on Twitter
This is an opinion piece. The views expressed in this article are those of just the author.