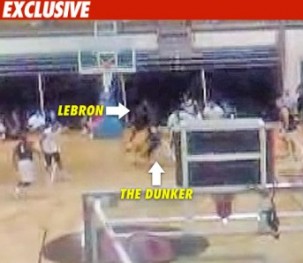 TMZ is not just for breaking news about celebrity deaths (and incorrectly breaking news about semi-celebrity deaths). It's also here for you sports fans.
TMZ announced this morning they have obtained a video of the incident at a basketball camp earlier this month of NBA superstar LeBron James getting dunked on by a college player. It was previously reported that all tapes of the dunk were confiscated by Nike.
It's likely TMZ.com forked over more than a few bucks for the tape (which, judging from the graininess, is not exactly in HD). BetUS.com last week put up $50,000 for a copy of the embarrassing moment for the Cavs star.
CNBC reports one of the videographers who had his tape confiscated at the time is pretty sure it looks legit. So is everyone ready to check it out? This is breaking news after all.
Well hold on a minute. You see, although TMZ.com began as a gossip Website, times have changed. Now TMZ has a syndicated show, and will be holding the tape until it can air it on television first. So go check your local listings (here in New York, it's 6:30pmET on FOX), or try to contain your excitement until 6:45pmET when it's posted online.
One thing we know now – we are all going to be witnesses, much to Nike and King James' dismay.
> Update: Well apparently TMZ couldn't wait until 6:45. It's now posted on their site. And it's about as disappointingly grainy as was expected.
> Update, update: Could this be another, better quality video of the dunk? This is the story that will never die. Sorry Bron-bron.
—–
» Follow Steve Krakauer on Twitter
Have a tip we should know? tips@mediaite.com