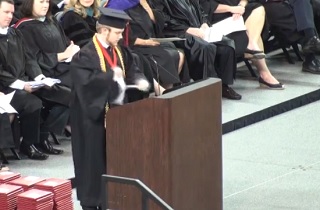 Fans of prayer in school have a new hero this week. Liberty High School Valedictorian Roy Costner IV, of Liberty, South Carolina, drew huge applause from the crowd at his graduation ceremony when he ripped up his prepared speech, and recited The Lord's Prayer, which appears in the Book of Matthew's Chapter 6, verses 9-13. The YouTube video of Costner's address has become a viral sensation this week, and his recitation of the prayer, apparently in response to the school's decision not to include prayers at the ceremony, has even been featured on Rep. Jeff Duncan's (R-SC3) YouTube page.
The way the story is being reported, it sounds like Costner just rips up his speech and launches into the prayer, but there are actually a few minutes between those events. At the beginning of his speech, he makes a charming joke about his speech having been approved, which means "obviously, I didn't do my job."
He then rips up the speech, and pulls out another prepared speech, which he then begins to read. A few minutes later, Costner said "I'm so thankful that both of my parents led me to the Lord at a young age," then reads the prayer, to thunderous applause:
That extra bit of context, I believe, makes Costner's act more endearing, not less, because it shows this wasn't merely a defiant stunt, but a sincere expression, one for which he was not punished. From Yahoo! News' Melissa Knowles:
The stunt was apparently in protest of the new decision made by the Pickens County School District to no longer include prayer at graduation ceremonies. As you can hear from the students' applause, many of them agreed with Costner pulling the switcheroo and standing up for what he believed was right.

John Eby, a spokesperson for the Pickens County School District, said, "The bottom line is: We're not going to punish students for expressing their religious faiths."
Eby told Christian News Network's Heather Clark that the decision to eliminate prayers was the result of outside pressure:
"From the ACLU sending FOIA requests to every district in the state this year after the Chesterfield County case, then the Freedom From Religion Foundation sent us a complaint about religion at board meetings and some other issues as well," Pickens County School District spokesman John Eby said, the district has been under fire.

Therefore, officials decided to end invocations at all school functions and replace prayer at high school graduations with a moment of silence.
While there are legitimate concerns about separation of church and state, especially regarding prayer in public schools, the solution to invocations at graduation ceremonies and the like has typically been more prayer, not less, featuring invocations from whatever faiths represent a given community. Costner's solution was the next best thing.
Have a tip we should know? tips@mediaite.com