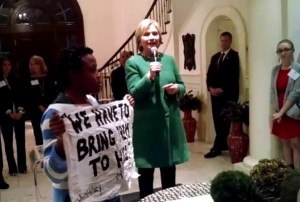 One of the major subplots to this week's Democratic primary campaign in South Carolina has been frontrunner Hillary Clinton's 1996 use of the term "Superpredators," which has been the subject of ongoing attacks by the Bernie Sanders campaign, and which came to a head when an activist confronted her about the issue during a private campaign event Wednesday night. As detailed extensively in these pages, the reference was not the implicitly racist dogwhistle it's being made out to be when viewed in context, but still genuinely hurtful and substantively unwise, based on junk criminology that should never have been bunked in the first place, let alone needed to be debunked.
Hillary didn't handle the confrontation very well, and chose to make her first response to the incident in print, through a columnist rather than a reporter. Later on Thursday, though, she did address the remarks on MSNBC's MTP Daily, echoing her earlier remarks to Jonathan Capehart, but amplifying them as well:
Oh, look, I said that that was a poor choice of words. And never used it before, never used it since. And looking back, I shouldn't have used those words. I certainly wouldn't use them today.
Clearly, there's an apology rattling around in there somewhere, but it never manages to break all the way through. In her words and her tone,  Hillary Clinton clearly seems to regret having used the term "Superpredators" and the dehumanizing phrase "bring them to heel," yet she never gets around to actually saying "I'm sorry I used that language. It wasn't directed at black people, but I see now why it was hurtful."
This Fonzie-like inability to get around to the words "I'm sorry" is fairly common in politics, but a familiar enough problem to Hillary Clinton that she should know better by now. Some consultant has told her to fear a headline like "Hillary Clinton Apologizes for Racially-Loaded Language" more than one like "Hillary Clinton Refuses to Apologize," and I just don't get it.
Have a tip we should know? tips@mediaite.com