Hillary Clinton Ordered Her Senior Advisor to Willingly Send Information 'Nonsecure'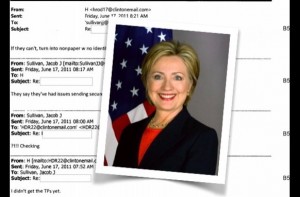 In one of the most recent emails released from the treasure trove from then-Secretary of State Hillary Clinton, it would appear as if Clinton herself directly gave orders to send sensitive information in an unsecure fashion.
The exchange dates back to June of 2011 and reveals the back-and-forth between Clinton and her senior advisor Jake Sullivan: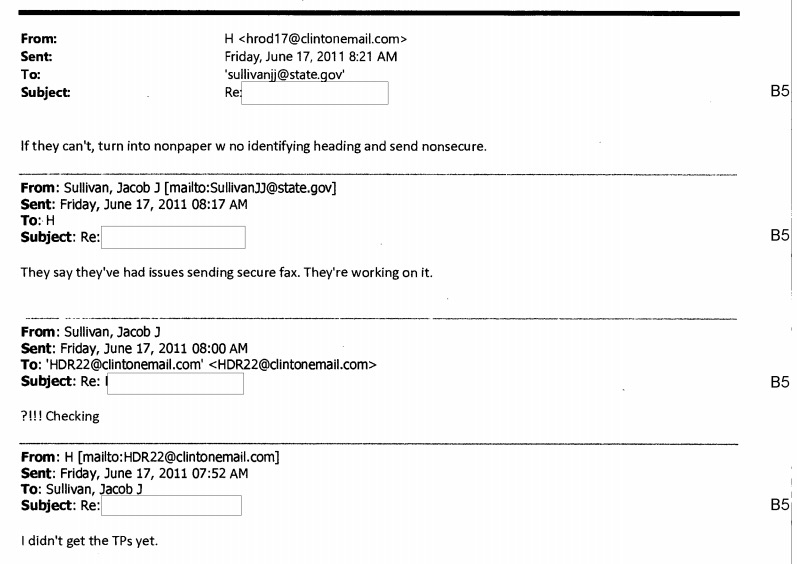 As you can see from the above exchange, Sullivan tells Clinton that the team is unable to effectively send a secure fax of information to Clinton directly. Her response?
"If they can't, turn into nonpaper w no identifying heading and send nonsecure."
The Democratic frontrunner has continued to maintain her innocence from any wrongdoing. The Congressional Correspondent for CBS News Nancy Cordes took to Twitter with the following clarifying statement from the Clinton camp:
Clinton camp tells @CBSNews: "It is false that Hillary Clinton asked for classified material to be sent over a nonsecure system."

— Nancy Cordes (@nancycordes) January 8, 2016
Radio host and debate moderator Hugh Hewitt referred to this updates as the "smoking gun" of Clinton's intentional guilt:
@NolteNC bravo @BretBaier This is the smoking gun. It is a direct order to violate the laws of the United States concerning classified info

— Hugh Hewitt (@hughhewitt) January 8, 2016
Hewitt then returned to Twitter to highlight a mention by MSNBC's Chuck Todd on the email exchange, noting that he is willing to identify it not as a "smoking gun", but as "smoking circumstantial evidence":
"It is smoking circumstantial evidence" —@chucktodd to me re new @HillaryClinton email thread

— Hugh Hewitt (@hughhewitt) January 9, 2016
[image via Wikipedia Commons]
—
>> Follow J.D. Durkin on Twitter (@MediaiteJD)
Have a tip we should know? tips@mediaite.com