Hillary Dismisses Question over Clinton, Bush Dynasties Ruling U.S. Politics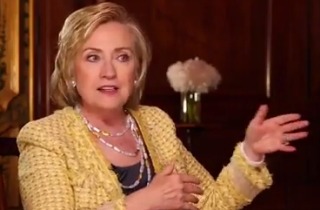 Hillary Clinton is almost certainly, definitely, not quite entirely, but still pretty much running for president in 2016. And she won't be the only one; there are rumblings Jeb Bush may run, and hell, last week even Al Gore was touted as a likely candidate. Now, you might look at that and think, "Gee, what's with all these political dynasties?" Well, in an interview with German magazine Der Spiegel, Clinton dismissed that idea and insisted the American system is not as closed-off as you might think.
Clinton's interviewer brought up how the Bush and Clinton families have basically dominated American politics for the last 25+ years and asked a pretty bold question: "Will the American democracy turn into a monarchy?"
Clinton responded by saying, "We had two Roosevelts. We had two Adams. It may be that certain families just have a sense of commitment or even a predisposition to want to be in politics."
She also pointed out that she ran six years ago and lost to a political newcomer named Barack Obama, so nothing is ever politically set in stone. Clinton added, "Our system is open to everyone. It is not a monarchy in which I wake up in the morning and abdicate in favor of my son."
You can read the full interview here.
(Sidenote: wouldn't it be great if Clinton roped in Gore as her running mate, while Jeb Bush went with Liz Cheney, so in 2016 we'd have Clinton/Gore v. Bush/Cheney? And by "great," I mean the worst.)
[h/t POLITICO]
[image via screengrab]
— —
Follow Josh Feldman on Twitter: @feldmaniac
Have a tip we should know? [email protected]
Josh Feldman - Senior Editor