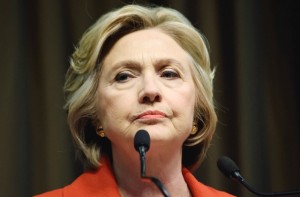 After granting a long-requested concession to campaign reporters, a Hillary Clinton aide snarkily told a reporter that they hoped it would "shut you the hell up."
Typically, reporters and presidential candidates fly in the same plane. But Clinton bucked this trend, flying in one plane and flying around reporters in a second. Her press corps had long asked that they fly in the same plane to increase access to a campaign already seen as too inaccessible.
On Friday, the Clinton campaign finally reversed that decision. But one aide was sure to tell Politico's Glenn Thrush just how she felt about it.
Hillary aide on press joining her on plane next week: "I hope this will shut you the hell up"

— Glenn Thrush (@GlennThrush) September 2, 2016
(UPDATE 2:20 PM): In an email to Mediaite, Thrush explained that the remark was made partly in jest. "I was arguing as often do with Clinton's people about access (during a background conversation on another story) when the person (who I like) said half-jokingly that she'd give more access once they fired up the campaign plane in part to shut me the hell up. The delivery was friendly, and we both laughed, but the point was telling, which is why I tweeted it," he relayed.
Reporters were predictably miffed about the comment.
At least they are transparent in their contempt https://t.co/RgHwxl0Ius

— Aaron Blake (@AaronBlake) September 2, 2016
Ah yes. Asking to cover the favorite to be president is SUCH an inconvenience! https://t.co/biLDZsQUsr

— Chris Cillizza (@TheFix) September 2, 2016
Excellent attitude toward the guardians of democracy from the Democratic nominee for president. https://t.co/em3zwKjCcI

— Eric Geller (@ericgeller) September 2, 2016
why do hillary's supporters wonder why the press hates hillary's campaign https://t.co/dLwSp4GejZ

— Matt Negrin (@MattNegrin) September 2, 2016
This sure bodes well for a Clinton Administration's view on press freedom https://t.co/z5Z7z7fIcQ

— Zaid Jilani (@ZaidJilani) September 2, 2016
Even Donald Trump's campaign manager got in on the dog-pile.
This speaks volumes… https://t.co/iM8Ks4EnT1

— Kellyanne Conway (@KellyannePolls) September 2, 2016

[Image via screengrab]
——
>>Follow Alex Griswold (@HashtagGriswold) on Twitter
Have a tip we should know? tips@mediaite.com