HLN Guest Compares Dallas Cop Shooter to Kid Who Finally Punches Playground Bully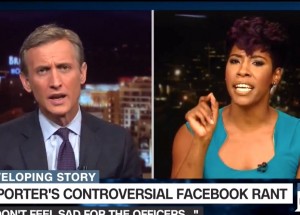 For the second night in a row, psychologist Spirit led the charge tonight on an HLN segment that was hosted by Mediaite Founder Dan Abrams. She compared the shootings in Dallas to what might happen when a playground bully finally gets punched in the face by the kids who aren't going to take it anymore. Though she was careful not to say that Black Lives Matter or even black people in general are the ones doing the punching in this scenario, she did liken them to the bullied kids who might just feel relief to see their tormenter taken down a peg.
All of this was in response to Kalyn Chapman James, a Floridian TV personality who posted a video in which she expressed feeling "guilt" because she didn't feel bad for the officers who were shot. Her point seems to have been that she has been desensitized by violence against people of color and she is disappointed in herself for not feeling worse. James was on hand, too, but had been interviewed in the previous segment so didn't get to speak as much as Spirit, who made her point over and over again.
Abrams tried to stop Spirit from saying what she was saying, but she continued, imploring him, "Hear me!"
In general, everyone spoke over each other and the entire thing is beyond description, so it is worth a watch.
Spirit, for her part, holds no ill will toward Abrams for trying to steer the conversation away from her surprising analogy:
I still love @danabrams. He represents the voice of so many who need to hear us spar if any change is possible! https://t.co/Au9wW645fg

— talk2spirit (@talk2spirit) July 14, 2016
What do you think about all of this?
[image via screengrab]
For more from Lindsey: Twitter. Facebook.
Have a tip we should know? tips@mediaite.com