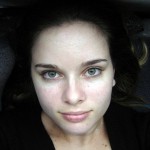 Courtney Love just made the blog leap from MySpace to Tumblr.
The Hole front-woman, famous for her MySpace blog posts, wrote an adios of sorts on her MySpace blog July 31st: "What a ghost town … wow. poor Myspace well weve all had some great times." Fans wondered where she'd surface next in the comments section of the entry.
Wonder no more: The Internet-savvy singer has found a new domain at the blog platform. Her eponymous blog references her forthcoming album: "This is a summation of what this record is about sartorially, its independane (sic) hard won upcycled so not a change of "image" like madonna does but not stuck in the nineties."
In another post, the songstress espouses the joys of DIY-crafts site Etsy: "i was so happy to turn Billy Joe armstrong and his wife adrian onto etsy, i have to be frugal."
Tumblr's Director of Media Outreach Meaghan OConnell confirmed that Love had joined the blogging platform, explaining via e-mail:
"She recently switched management companies, to Crush Music Media Management, who have been advocates for our platform. Her interest in joining Tumblr coincided with her joining their roster– which includes Pete Wentz of Fall Out Boy, William Beckett of The Academy Is… , and Gabe Saporta from Cobra Starship, among others."
Adds O'Connell: "We are thrilled to have Courtney on Tumblr."
As for Love, a July 2nd MySpace post hints at what might appeal about Tumblr: "whooo look what happens with unfiltered fucking comments, gross, did yoi even bother to read whsat i wrote your so stuck up your own asses, some of you."
Unlike the MySpace platform, comments on Tumblr posts must be manually enabled by the user. Although Love could moderate comments on MySpace, the Tumblr platform doesn't encourage blog commenting, but rather "reblogging," where users re-blog an original post and are encouraged to add commentary.
Jessica Gold Haralson is a writer and a gamer who writes about various topics, including entertainment, pop culture, and new media. She probably spends more time than is necessary playing World of Warcraft.
Have a tip we should know? [email protected]