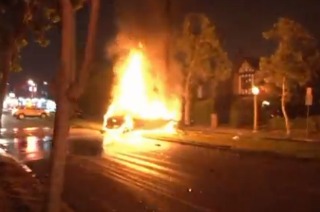 A freelance video of the crash that killed BuzzFeed reporter Michael Hastings has surfaced, showing the spectacular fire that consumed the vehicle after the reporter's car impacted a tree. A freelance videographer for Loud Labs News took video of the car fire before police and firefighters responded. Another version of the video shows what is allegedly Hastings' car speeding through a red light, minutes before the crash.
A local resident said that he saw the late-model Mercedes-Benz C250 coupe driving inordinately fast before impacting the tree on Highland Avenue just past Melrose Avenue in Los Angeles. The video also shows the engine, virtually intact, which had been thrown feet from the car upon impact.

RELATED: Shame On CNN, Fox For Embracing Conspiracy Theories Surrounding Death Of BuzzFeed's Michael Hastings
Loudlabs' Youtube page explains how their freelancer got the footage:
After reviewing yesterday's feeds and reading all the comments about the Michael Hastings crash we thought it would be a good idea for our photographer to get all his raw footage together including the dash-cam footage and put it aside. He mentioned to us in our meeting that he was close to the story because he was working a lead on the Justin Bieber crash on Sunset Blvd.

The lead turned out to be nothing and he then drove to the intersection of Santa Monica & Vista to do some computer work before heading in for the night. When leaving that intersection he said that he noticed he'd made a mistake on what he was working on. (K-9 Deployed YouTube Feed) He then pulled into the gas station at Highland & Santa Monica Blvd to fix the problem. All of our work vehicles are equipped with dash-cams. Out of pure luck……his dash-cam caught a Mercedes Benz at a high rate of speed run the red light travelling south on Highland. Melrose is just a few blocks away and impact took place just seconds after.

He said he did not see the car run the red light. When leaving the parking lot he headed east on Santa Monica Blvd. 30 seconds after leaving the gas station parking lot, the "call" hits the radios. It was a total of 4 minutes from the time the car was caught on dash-cam to when he saw the flames and shortly after arrived on scene and asks about the driver to the homeowner with the water hose.
Watch the dashcam video below, followed by footage of the crash's aftermath, via LoudLabs News. Both videos are extremely disturbing:
Here is the disturbing aftermath of the crash:
h/t PatDollard.com
> >Follow Noah Rothman (@NoahCRothman) on Twitter
\
Have a tip we should know? tips@mediaite.com