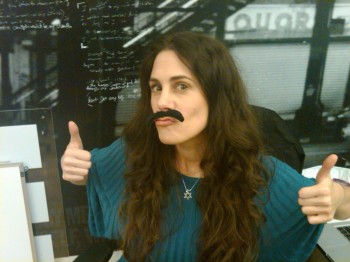 Today is the last day of Movember. That's right, Movember. Don't look for it on your caledar, mofo, unless you belong to some weird pagan sect that can't spell. No, Movember is so named because it's a MOVEment, about MOustaches. If you've noticed your gentlemen friends sprouting wantonly on their upper lips, well, that may be why. Here, we'll let Thrillist explain:
By now you most likely know the essence of Movember: that magical month in which folks all over the world grow moustaches for charity, be they jaunty, distinguished, menacing, filthy, magnificent, wispy, or "other".
raise some sweet cash for prostate and testicular cancer research.

The charity is Movember, and the sweet cash has been raised by sites across the internet all month, notably by our friends at Asylum ("Grow a Mustache, Punch Cancer in the Mouth") and HuffPo ("Why I Grew A Mustache – And Why You Should Care"). That last one was written by a fellow named Ari Herzog, and you can see what he looks like with a fuzzy upper lip (and donate to his team!) here. To donate to team Asylum's mustaches you can go here; or to put them over the top at the last minute, go to Mustaches vs. Cancer and donate here. Because as they say: "No red states, no blue states… just mustaches." Indeed.
Well, I can't grow a mustache and I'm glad of that, but I certainly can donate, so I just did, 'cause a gal's gotta put her money where her moustache is. I can also show solidarity with the movement in other ways. See above. And, I can also use it as an excuse to celebrate the bountiful, glorious, luxuriant and luscious mustaches that abound in the media world — so that is exactly what I have done below. Click on the image to see not only the name of the mustachioed gent in question, but also my pithy commentary. There are hidden gems like songs and jokes and salty wet kisses from a hairy, hairy face. OK I'm lying, you can't get that from the Internet. Yet.
Have a tip we should know? tips@mediaite.com