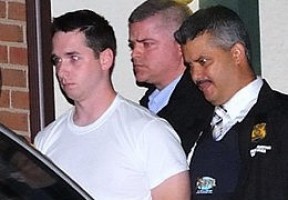 Long before police arrested Raymond Clark, the 24-year-old lab tech suspected of murdering Yale pharmacology grad student Annie Le days before her wedding, the media had already built what sounded like a compelling case against him. Sating the public's hunger for information about the shocking, disturbing murder, information has been flowing at warp speed — with new media sources making a surprisingly strong showing. But what does this say about the Internet's impact on high-profile stories — and what effect could it have if Raymond Clark's case to trial?
The most substantive evidence against Clark reported so far was gathered and reported the old-fashioned way: newspapers — mostly local newspapers — getting leaks from anonymous "police sources." That's how on the 14th, the New Haven Independent broke the fact that the main suspect "person of interest" was a lab tech who did animal testing, and on the 15th the Daily News found that he had flunked lie detector tests and had scratches on his body. That's how the Hartford Courant reported that swipe card records showed that Clark was the last person to see Le alive. That's how the New Haven Register found out that Clark's DNA supposedly implicates him.
But the social Web has added information to the case that would have been unattainable just years ago. How admissible any of it will be in court is anybody's guess, but it provides a fascinating, if circumstantial, new aspect to the case and its coverage.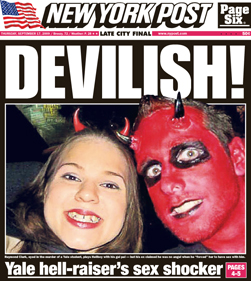 This New York Post cover, which was clearly just pulled from a Facebook album: when, in the past, could a tabloid find a murder suspect in a devil costume, even if such a picture existed somewhere? Many of the photos of Clark in circulation came from online albums.
*Gawker's Andrew Belonsky got the "scoop" on an old spoof MySpace page of Clark's from 2006; despite bringing nothing new to the table besides inappropriate fart and porn jokes (and being several cuts below some of Gawker's actual crack reporting on Clark), more than 22,000 people read the post.
*MySpace played a more substantive role when the New York Post got ahold of these messages from the MySpace page of Jennifer Hromadka, Raymond Clark's fiancée, which mention rumors of a possible 'fling' with a girl at the lab:
"My boyfriend, Ray, if you don't know him, has no interest in any of the other girls at [the university research center] as anything more than friends.

"This rumor of a 'fling' is probably the most stupid thing i have ever heard and really is not even worth going into detail about.

"Who are you to judge the life I live? I know I'm not perfect and I don't live to be, but before you start pointing fingers make sure your hands are clean!!"
*Clark's ex-girlfriend's Facebook posts also became a part of the national news cycle. According to the New Haven Independent, the woman, who accused Clark of forcing her to have sex with him in a 2003 police report, wrote "I can't believe this. "I feel like I'm 16 all over again . . . Its jsut [sic] bringing back everything."
Finally, news just travels faster. Those who were following the story closely could get up-to-the-minute information on the latest development via aggregators like Google News, though the insatiable hunger for something big and new led to some big errors from the media. The premature report by Fox that a body had been found when one hadn't falls squarely into this category, as does the unsubstantiated storyline that a professor, who was in fact one of many people questioned in regards to the case, was the main suspect.



Is there an even darker side to this saturation? If Clark's case goes to trial, prosecutors could have a darned hard time finding jury members who are truly impartial; given the blanket coverage, who doesn't walk into the courtroom knowing, or thinking they know, key details of the case. More importantly, someone will have to watch jurors like hawks to ensure that they don't violate court procedure by bringing the wrong kind of information into, or out of, the courtroom.
As the New York Times reported in March, major civil and criminal cases this year have been declared mistrials thanks to jurors reading about the case online, doing research using reference sites like Wikipedia, and even Tweeting and updating Facebook statuses from the courtroom. If this past week's coverage is any indication, whatever trial springs out of the Le case will be a media circus, and the temptations will be even greater.
Tweeting from the jury booth: clearly a bad idea. But the wealth of information available on the social Web is a fact of 21st century life, and it's naive to expect it to be easily shut out.  Maybe it is the legal system, and not the Internet, that should be adjusting to the new order of things.
Have a tip we should know? tips@mediaite.com