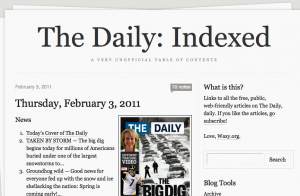 Think you need to purchase an iPad to check out Rupert Murdoch's latest media project? Think again, plebe! Friend of Mediaite Rex Sorgatz reports via his Tumblr page Fimoculous a new means of reading The Daily online – without an iPad – after bemoaning the fact that the iPad news "paper" (newspad?) didn't have its own homepage or official index of stories.
The Daily: Indexed is the brainchild of Andy Baio, who explained the reasoning behind creating an "unofficial" homepage for The Daily:
The Daily's publishing free, web-based versions to every article, but without an index, it's very inconvenient to find or link to individual articles from the web. And since the iPad app appears to only carry today's edition, it makes finding any historical articles you've paid for nearly impossible.
Handy! But what about the legal implications of posting the publication's articles online? It's not that Baio hasn't considered what might go wrong – and is ready and willing to take the site down should lawyers ask him to:
Frankly, I'm also very curious about the legal implications. My understanding is that linking to public news articles is unquestionably legal, and I believe that right should never be discouraged. It's also worth noting that Google's slowly indexing all the articles too, and search engines aren't blocked in their robots.txt file.
The Daily: Indexed is extremely well-organized, with articles listed under relevant topics like News, Sports, Gossip and Apps & Games. Each section's cover is also listed. An archive and RSS feed are also available to help readers keep track of The Daily's articles and offerings.
Enjoy it while you can!
Have a tip we should know? tips@mediaite.com