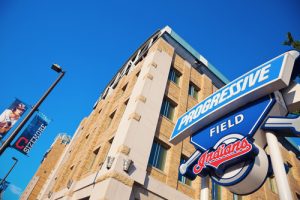 Well, here it is: Sometime in the next 10 days, one city is going to celebrate the end of a lengthy World Series drought. And another city will have their collective heart broken yet again, and be left to wonder if it will ever be their time.
You know the numbers by now. The Cleveland Indians have not won the Fall Classic since 1948. And the Chicago Cubs haven't won it since 1908. Some context for these incredible droughts: The New York Yankees have captured 16 championships since the Indians won their last. And they've won 27 titles since the Cubs last took one. In fact, the New York Yankees didn't even exist the last time the Chicago Cubs were World Series Champions.
So that's what's on the line here: Two tortured franchises. Two loyal fanbases. One winner.
History. And heartbreak.
Cleveland has the home field advantage based on the American League's victory in the All-Star game. They host Game 1, and will have their ace, Corey Kluber, on the hill to start the Series. Chicago counters with their No. 1 starter, Jon Lackey.
First pitch of this historic Fall Classic is at 8:08 p.m. ET. This is the first game of the 2016 postseason to air on network television, with FOX doing the honors. Joe Buck and John Smoltz have the call. The action can be streamed free with a cable subscription on pc, cell phone, or tablet via Fox Sports Go — which can be downloaded via the iTunes store, the Google Play store, and the Windows store.
[image via Henryk Sadura – ShutterStock]
Have a tip we should know? tips@mediaite.com