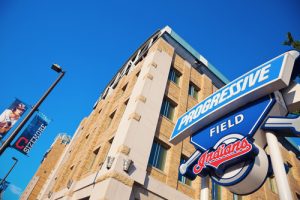 One down, three to go for the Cleveland Indians, who took Game 1 of the World Series Tuesday night in Cleveland with a 6-0 win over the Chicago Cubs. Cleveland starter Corey Kluber was superb, striking out nine in six innings. And Andrew Miller got out of a bases loaded no-out jam of his own making in the seventh to help preserve the win.
The unlikely offensive hero for Cleveland was catcher Roberto Perez, who belted two homers – including a three-run shot in the eighth to put the game away.
The Cubs' bats were silent against Cleveland pitching, although Kyle Schwarber did contribute in his unlikely return to the lineup. Schwarber was the DH for Chicago, and he went 1-3 with a double and a walk in his first at-bats since injuring his knee all the way back in April during the second game of the season.
Chicago will need more from Schwarber and the rest of their lineup if they hope to get on the board tonight. Jake Arrieta takes the mound for the Cubs, while Trevor Bauer gets the start for Cleveland.
First pitch for the game is at 7:08 p.m. ET, an hour earlier than the originally scheduled time — this in an effort to avoid a storm system which is slated to move through the Cleveland area late this evening. The game will air live on FOX. Joe Buck and John Smoltz have the call. The action can be streamed free with a cable subscription on pc, cell phone, or tablet via Fox Sports Go — which can be downloaded via the iTunes store, the Google Play store, and the Windows store.
[image via Henryk Sadura – ShutterStock]
Have a tip we should know? tips@mediaite.com