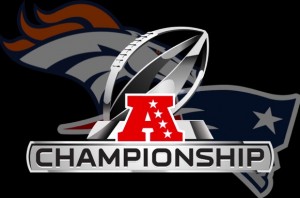 On Sunday afternoon, two greats — by many accounts, the two greatest ever — will square off for the seventeenth time in their respected Hall of Fame careers. The Patriots' Tom Brady has the wins and advantage in the series, winning 11 of the 16 meetings against Peyton Manning. The last time they met in the playoffs however, Manning led the Broncos to a 26-16 win in 2014 at the Sports Authority Field at Mile High — the same location for today's game.
The AFC Championship title is on the line, and a trip to Super Bowl 50 for one of these two legendary quarterbacks; to his name, Manning has one title. Brady has four. The 12-4 Broncos knocked off the Steelers 23-16 last week, as Manning tossed for 222 yards in the effort. Denver finds itself in postseason contention largely on the back of Brock Osweiler, who took snaps under center most of the season while Manning was injured. In fact, it was Osweiler — not Manning — who handed these same Patriots their first loss of the season in Week 11.
But the Patriots are ones who are favored to win this afternoon as the visitors, even if only by 3.5 points. The Pats got through the Chiefs last week 27-20, and Brady went 28-42, 302 yards and 2 TDs in the effort, adding a rushing touchdown as well. To the surprise of few, Rob Gronkowski managed both of those touchdowns thrown by his veteran quarterback, and the return of Julian Edelman saw him break the century mark for receiving yards against the Chiefs.
Kickoff for the game is Sunday at 3:05 p.m. ET. The game will be broadcast on CBS and Sirius XM Radio. Fans can also log-on to NFL Game Pass to stream the game on their desktops on-demand. NFL Mobile applications are also another way to stream the game between New England and Denver, which can be downloaded from the Apple App Store, Google Play, and the Windows Store.
NFL Sunday Ticket games can also be watched online at nflsundayticket.tv.
Check out the above game preview from ESPN, and enjoy the game and the countless Papa John's commercials!!
Have a tip we should know? tips@mediaite.com