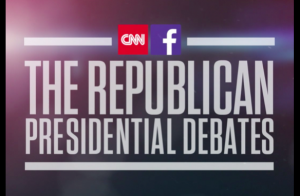 CNN's Wolf Blitzer will moderate tonight's Republican Debate on CNN, the final opportunity for the crowded field to debate in 2015. Dana Bash and Hugh Hewitt will also be involved asking questions of the candidates, who will be split into undercard and primetime debates.
Both debates will be held at The Venetian in Las Vegas, Nevada.
The GOP Debate will air live on CNN, CNN en Español and CNN International. A live stream of the debates will also be available on CNN's homepage and on mobile platforms between the hours of 5 p.m. ET and 11 p.m. ET.
The Salem Radio Network will air the debate live as well coast-to-coast.
At 6 p.m. ET, the following candidates will take the stage:
Former New York Governor George Pataki

Former Arkansas Governor Mike Huckabee

Former Pennsylvania Senator Rick Santorum

South Carolina Senator Lindsey Graham
At 8:30 p.m. ET, the leading contenders for the Republican party nomination will debate in the following order, left to right on stage:
Ohio Governor John Kasich

Carly Fiorina

Florida Senator Marco Rubio

Dr. Ben Carson

Donald Trump

Texas Senator Ted Cruz

Former Florida Governor Jeb Bush

New Jersey Governor Chris Christie

Kentucky Senator Rand Paul
Entering this past weekend, the fate of Rand Paul was uncertain; a CNN spokeswoman said Sunday, "In light of new polling released this morning and in the spirit of being as inclusive as possible, CNN has decided to include Sen. Rand Paul in the prime-time debate." Tuesday night will also mark the return of Chris Christie to the main debate stage, after sparring in the undercard last month in Milwaukee on Fox Business.
According to CNN, "Candidates must meet one of three criteria in polls conducted between October 29 and December 13 and recognized by CNN: an average of at least 3.5% nationally; at least 4% in Iowa; or at least 4% in New Hampshire." The hashtag #GOPDebate will be used throughout the night to promote social media engagement with viewers at home.
Find out how to watch the debate live online here, and check back for Mediaite coverage throughout tomorrow night' events.
[image via Twitter]
Have a tip we should know? tips@mediaite.com