Huckabee Goes Off On Islam's 'Murderous Mayhem': Muslims Exit Mosques 'Like Uncorked Animals'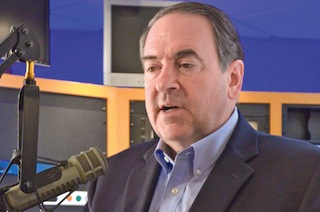 Conservative radio host Mike Huckabee condemned alleged Muslim violence following Ramadan as the actions of "uncorked animals" on his radio show recently, and wondered why the destruction followed their "holiest days," unlike post-Christmas behavior.
"I know we're not supposed to say anything unkind about Islam," Huckabee said. "It's politically incorrect. I get that. But can someone explain to me why it is that we tiptoe around a religion that promotes the most murderous mayhem on the planet in their so-called 'holiest days'?"
"If you've kept up with the Middle East, you know that the most likely time to have an uprising of rock throwing and rioting comes on the day of prayer on Friday," he said. "So the Muslims will go to the mosque, and they will have their day of prayer, and they come out of there like uncorked animals, throwing rocks and burning cars…I'm not saying all Muslims are radical and I am not saying that all Muslims are violent. But we as a government recognize that the most likely times for them to erupt in some type of terrorist activity, violent storming of an embassy, is on their holy days."
Huckabee also pointed out that Christianity's primary holiday was attended by no such riots.
"When Christians get out of their Christmas services, about the worst thing they do is commit the sin of gluttony when they go to some Christmas dinner," Huckabee said. "For most of us, the holiest days that come in the Christian world, particularly Christmas and Easter, I don't really recall that the government has to issue a warning and say 'Look Out! It's Easter! Those Christians are coming. They'll be throwing eggs all over town.'"
Listen to the clip below:
[h/t Daily Caller]
—
>> Follow Evan McMurry (@evanmcmurry) on Twitter
Have a tip we should know? tips@mediaite.com