Today on Twitter, Mike Huckabee made one of his infamous jokes: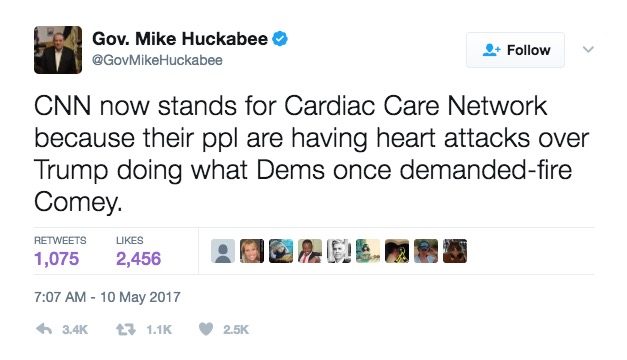 He makes these sorts of dad jokes a lot on Twitter and they always get panned accordingly just for being groan-worthy, but today's joke was something else entirely.
The basis of the joke was a play on CNN's name. Obviously, CNN stands for Cable News Network. Any joke riffing on that would need to maintain the right acronym and be comprised of one word starting with a C and two starting with Ns.
Huckabee went with "Cardiac Care Network." That phrase spells out CCN, thus torpedoing the punchline and taking the focus off whatever point the former presidential hopeful was trying to make.
Twitter users from CNN and beyond have responded gleefully this morning.
Comedy is hard. Acronyms Harder. https://t.co/wc8rA72d1t

— Jake Tapper (@jaketapper) May 10, 2017
@GovMikeHuckabee You're not great with acronyms, huh.

— Tom Bonier (@tbonier) May 10, 2017
@GovMikeHuckabee 45 mins now, I'm laughing so hard

— steven j. horowitz (@speriod) May 10, 2017
That's CCN. Not CNN. https://t.co/FOQwnyUnN0

— Chris Cillizza (@CillizzaCNN) May 10, 2017
Seriously dude. Read this stuff over before you tweet it. Sheesh. https://t.co/xqlYJTgPOg

— janashortal (@janashortal) May 10, 2017
@GovMikeHuckabee The amazing thing is that I know you hit send on every single one of these tweets thinking you've done a killer job

— Anna Merlan (@annamerlan) May 10, 2017
@GovMikeHuckabee Yep, that's definitely why they call it CCN.

Why don't you sit this one out, champ?

— Kevin M. Kruse (@KevinMKruse) May 10, 2017
Don't quit your day job…oh wait…you don't HAVE a day job https://t.co/jooivPjlKa

— Iam Old ??? (@Bacon_Gawd) May 10, 2017
The first N is silent… And invisible? https://t.co/CTOCe0N1I4

— Gordon McGuinness (@PFF_Gordon) May 10, 2017
MSNBC now stands for Much Sausage Now Because Hungry because they're tying my 9am hit into a package like a sausage and I'm hungry. https://t.co/JRWI9SId1M

— Mike Jokeabee (@pureporksausage) May 10, 2017
@GovMikeHuckabee Huckabee is an acronym for "hey u guys can't you tell I wasn't made for comedy?"

— A͜͞͏.͜͏̕ ̴̨͏̀K̷oford (@apelad) May 10, 2017
@GovMikeHuckabee pic.twitter.com/IvIGNCl1gH

— Brad Gagnon (@Brad_Gagnon) May 10, 2017
@GovMikeHuckabee that's CCN… pic.twitter.com/jWz3ZLyyAe

— Connor (@ConnorAMiller) May 10, 2017
@GovMikeHuckabee C C N pic.twitter.com/5EB3r0K7zA

— Brandon Gates (@TheBGates) May 10, 2017
@blambertsluder @GovMikeHuckabee OH I'm lol'ing right now but I need some water excuse me , brb (Be Back Tomorrow)

— Cale A Fornili (@bananawrist) May 10, 2017
@GovMikeHuckabee pic.twitter.com/bh2YxfmXkL

— Hanna Flint (@HannaFlint) May 10, 2017
@GovMikeHuckabee Mike, I don't mean to sound condescending, but do you read your own tweets before sending them?

— Ryan Brown (@Toadsanime) May 10, 2017
@GovMikeHuckabee pic.twitter.com/gmqp86pdEY

— Craig (@craigums) May 10, 2017
@GovMikeHuckabee #MAGA make acronyms great again

— ᔕᕼᗩB〇〇TY (@SHABOOTY) May 10, 2017
@GovMikeHuckabee and 'GOV' Mike Huckabee now stands for Can't Do Acronyms

— Christopher Hooton (@ChristophHooton) May 10, 2017
@GovMikeHuckabee pic.twitter.com/xXOhYVXk7v

— Al The Goalie (@AlTheGoalie) May 10, 2017
[image: screengrab]
Have a tip we should know? tips@mediaite.com