Note: The Twitter screengrabs to the right date from just after the crash, but the time indicators at the bottom reflect the time of screengrab, not time of posting. This post has been updated with new information since publication.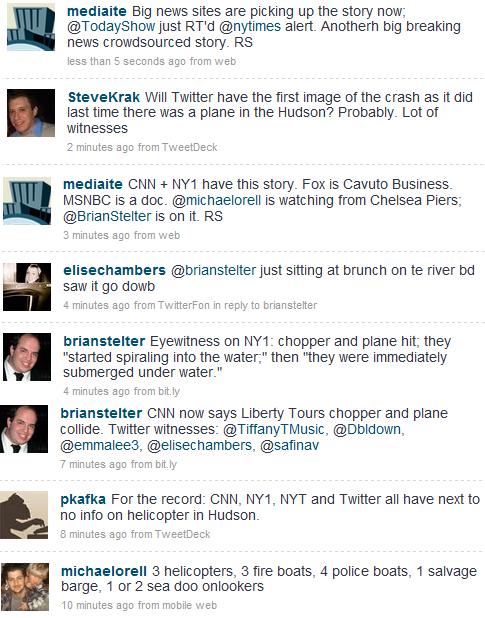 Right now I'm watching Fox News' live report on the collision between a plane and a helicopter over the Hudson River today in Manhattan. It's about 90 minutes after the crash occurred, according to the first tweet I've seen about it, from Anthony De Rosa at 12:10 pm. It's a surprisingly precise way to assess it — reports place the crash at just after noon — because one moment my Tweetdeck was filled with details of brunch, coffee and morning runs, and the next tweets from people like Brian Stelter and Marc Ambinder started coming thick and fast, along with incidental reports from people I follow who just happened to be on the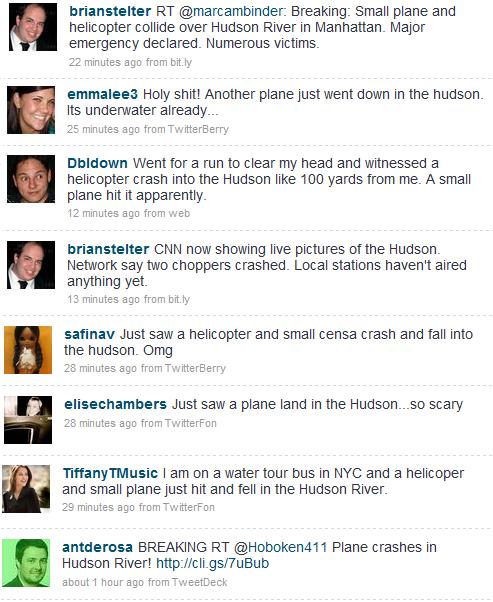 west side — like Michael Orell: "At Chelsea Piers Gym. This is the second time I'm watching a plane crash recovery from the Hudson. All wreckage looks to be submerged."
(Update: First tweet I can find on this is Dan Belanger (@ziggfather) at 12 noon exactly.)
By now, 90 minutes later, the networks have gotten a handle on it — NY1 was covering it almost immediately; the New York Times put out a story at about 1:05 p.m. (following up on a news alert banner at around 12:25 p.m.); Fox News is providing fantastic live coverage with commentary from anchor/host Jon Scott, also a licensed pilot and scuba diver with rescue training, who is giving extremely sharp ongoing analysis.
But right when a story like this breaks — an event in public that no one has an exclusive on, just an army of news junkies trying to collect and share new emerging information — there is just no beating Twitter.
Here is where following a few trusted aggregators can get the story out first. Brian Stelter is a great example of this – jumping on the story, collecting sources, sharing eyewitness tweets, getting out info as it rolls in. Ditto Marc Ambinder, off his usual political beat but not his usual commitment to precision and thoroughness. Anthony De Rosa was another essential curator, the first I saw to post the Hoboken411 link (New Yorkers sometimes forget that Jersey is on the other side of the Hudson; a lot of activity on that shore, too). Upshot: there's a vast world of tweeters out there, but knowing who to pick out and follow can give you the highest quality, most current info out there.
Now, 90 minutes later (by now 2 hours, actually) the best coverage I am seeing is on Fox News, thanks to Jon Scott, who is giving probably the best analysis of a breaking aviation event that I've heard (previous breaking plane incidents have been marked by bumbling, uninformed coverage; Miles O'Brien, CNN's former anchor/correspondent who, as a pilot, IS informed, wrote a smart piece on that point after the Air France crash in June). But even with Fox News' great coverage, I've had it on pretty solidly for an hour,  and keep hearing things that I read on Twitter first. It's just a damn good information conduit — once again, if you know who to follow.
Practically, the old first sources of news are no longer first any more. According to blogger Chris O'Leary, WABC was the first local New York affiliate to break into programming – an HOUR after it happened. (NY1 was on the scene 25 minutes after the crash, according to De Rosa.) CNN, despite being on the story at first, switched over to scheduled programming at 1 pm; MSNBC did not seem to have interrupted its programming at all (this is based on a cursory channel surf every half hour or so; a news break may well have happened.) By contrast, the FDNY site, The Bravest, had an updating feed at their Shoutbox (at one point it was downed by excessive traffic, but it's back up) and has a live video feed of the scene here. There are just new ways of getting news out these days.
Even so, Twitter will never be able to replace the reporting and analytical skill of experts (except when those experts are on Twitter) — just as a single Tweet will never have the depth of a literary masterpiece crafted over years of work. They are two different things — but where breaking news is concerned, Twitter is proving, yet again, that it dominates.
Are there confused, inexact, even false reports? Yes — I retweeted one myself, even though I signaled my skepticism ("Incredible if true: RT @marcambinder Preliminary report that all six aboard helicopter have been rescued, minor injuries.") This is what happens with breaking news reporting; as Ash Kalb noted, eyewitness accounts are almost always rife with inconsistencies. But you can't verify what you haven't collected, and that's where Twitter makes its bones.
If reporting is the first draft of history, Twitter is the first draft of reporting. For all its unreliability, unverifiability, and potential for misuse, I think I'm fine with that.
Update: Fox News has photographs of the crash in mid-air. More coverage here.
Related:
Helicopter and Plane Crash Over Hudson River: Twitter Tells the Story [Mashable]
Live Coverage – FDNY [The Bravest]
Shoutbox Feed – FDNY [The Bravest]
Have a tip we should know? tips@mediaite.com