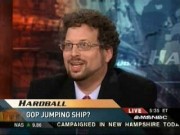 HuffPo may dominate the blogosphere but it appears they are aiming to dominate the Beltway-sphere also. Salon's Glenn Greenwald is reporting that HuffPo has hired recently fired Washington Post blogger Dan Froomkin to be its Washington Bureau Chief and regular columnist/blogger. According to Greenwald,
Froomkin will oversee a staff of four reporters and an Assistant Editor, guide The Huffington Post's Washington reporting, and write at least two posts per week to be featured on its main page and Politics page.
Froomkin was fired from The Washington Post a few weeks back for reasons which are still unclear. According to Greenwald's piece the moment HuffPo's editor-at-large, Nora Ephron, heard the news she shot Arianna Huffington a "when are we hiring him?" email. Answer? Immediately!
What's equally interesting is that Froomkin said yes. As Greenwald points out, it's not like he wasn't fielding a number of offers and HuffPo is such a sprawling beast one wonders if he will get the sort of focused attention there he might have enjoyed elsewhere. However, Froomkin is certainly known for his strong views (there was much speculation that this is what led to his firing from the Post) and HuffPo certainly doesn't shy away from bold headlines.
It's also worth noting that DC is where HuffPo has traditionally devoted its dollars in terms of paid reporters on staff. In fact, all four of HuffPo's paid reporters are currently based in DC (though Tom Edsall's byline has gone quietly missing of late, it would seem). So! Is HuffPo merely trying to establish further legitimacy in DC circles? They got a ton of (often controversial) attention both last month when Obama called on Nico Pitney at a White House presser, and earlier this year when Obama called on Sam Stein.
The reigning king of DC online media is currently Politico, which has also positioned itself as a sort of de facto DC bureau for struggling newspapers nationwide. However it's not hard to see HuffPo's snapping up of Froomkin as the next step in their campaign for the Beltway crown.
Have a tip we should know? tips@mediaite.com