Hugh Hefner Built a Secret Tunnel Between Playboy Mansion and Jack Nicholson's Home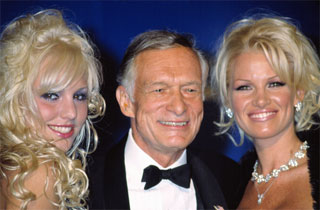 While looking in Hugh Hefner's photograph archives, Playboy inadvertently discovered one of the creepiest secrets of the late 70's: a bunch of male Hollywood stars had secret tunnels built between their houses and the legendary sex house.
According to Polaroids and blueprints found by the Playboy editorial staff, the Playboy Mansion underwent a massive construction project in 1977. Part of the project included some discreet underground tunnels, one of them starting at the house of one "Mr. J. Nicholson," and ending at the Mansion itself. So let's puzzle this one out: who's a 1970's celebrity with a legendary libido with the name J. Nicholson okay it's Jack Nicholson let's stop wasting time here.
The schematics included the names of other prominent male celebrities with secret tunnels built into their homes: Warren Beatty, Kirk Douglas and James Caan, "all of whom lived near the Playboy Mansion during the late 1970s and early 1980s."
You'd think that Playboy would be able to get an exclusive comment about the secret tunnels built into the house owned by their owner. You'd think that they could even get a few more details beyond a few blueprints. But alas, no one would talk — not even the Hef:
We asked if we could see the tunnels. A staff member said, off the record, "I heard they were closed up sometime in 1989." Hugh Hefner married Playmate Kimberley Conrad in 1989. We went back to the general manager, and he said he couldn't discuss it further.

We then asked The Mansion staff for more info about the celebrity tunnels, and we were told Mr. Hefner did not wish to comment. We reached out to reps for Nicholson, Caan, Douglas and Beatty, and they have not agreed to comment.

This is all the info we've been able to dig up.
Hugh Hefner turns 89 on April 9, and apparently will take the secrets of the Playboy Mansion to his grave.
[Playboy.com]
[Image via Everett Collection / Shutterstock.com]
—
>> Follow Tina Nguyen (@Tina_Nguyen) on Twitter
Have a tip we should know? tips@mediaite.com