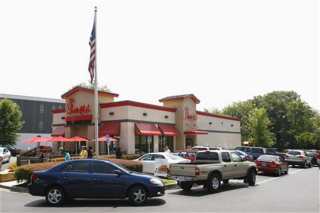 "I don't agree with them hating on the gays, but their chicken is delicious."
With one direct quote Tuesday, a 21-year-old Brooklynite identified the ultimate contradiction when it comes to what NYC will stomach: It's waffle fries over fighting homophobia.
Chick-fil-A, the nation's largest chicken restaurant chain — which also gave more than $2 million to anti-LGBT groups in 2009 — is tossing the Big Apple into its deep fryer with plans to open 108 new restaurants, including several in New York City, by the end of the year.
Currently, the only Chick-fil-A in the Big Apple resides in an NYU dorm building — in what most certainly has been a company straw poll on how busy and buzzed NYC liberals buy on-the-go regardless of their chicken man's political beliefs.
So, if New Yorkers take to eating "mor chickin," does that mean that the franchise has won deep in the homosexual heartland? Hardly. It just means that New Yorkers know a good thing when they taste it. And a cookies-and-cream milkshake is one helluva creation.
This story has confused tolerance with taste buds so often that no one realizes it's the perfect microcosm for American consumerism. We feed off controversy — only to realize, shoot, we forgot to eat while we were arguing. And we're hungry. And there's a Chick-fil-A next door. And it just tastes so good.
"We're not convinced that Chick-fil-A understands what it means to truly serve their employees and customers with the full respect they deserve," said Nathan Shaefer, executive director of the gay-rights group Empire State Pride Agenda. Customers don't need to respect Chick-fil-A, either, to get what they want. When was the last time, New Yorkers, you agreed with the owner of your favorite bodega? You probably don't agree with the CEO of your favorite clothing store, or maybe the CEO of your favorite wholesale market.
So perhaps the only debate in NYC v. Chick-fil-A will occur when the city asks to replace the customary two pickles with a wedge of kale. And, to that, the franchise might actually comply.
As Chick-fil-A knows: If you can bake it here, you can bake it anywhere.
[Image via Reuters]
— —
>> Clark Young is, above all things, a Mainer and Red Sox fan. Follow him on Twitter here.
Have a tip we should know? tips@mediaite.com