'I Might Come Over There With a Machine Gun!': Listen to the Most Insane Call Center Meltdown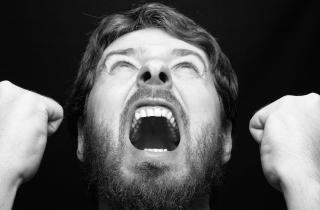 No, this is not a Jerky Boys prank. It's just one of the most insane corporate phone calls we've ever heard.
In this recorded conversation, an unidentified customer decides to air his grievances with an unnamed security systems company by spending eight minutes hurling expletives at a call center employee, who, in turn, treats him with the patience of a saint.

"I might come over there with a machine gun!" the man shouts at one point, noting that he does not, in fact, own a firearm, but could just as easily obtain one if it meant having the company address his concerns sooner. Based on his rants, it appears as though he was attempting to contact a representative named Michelle, who was apparently unavailable to return his call.
Consider this man the Howard Beale of dealing with customer service hotlines. On multiple occasions, he comes damn near close saying "I'm mad as hell, and I'm not going to take this anymore!"
As TheBlaze's Becket Adams rightfully notes: In the age of Jimmy Kimmel viral pranks, this could very well be a fake. But no sign that this is a fraud just yet.
Gawker points out, via Reddit, that the company was able to legally bar the customer from calling ever again.
The video was originally posted to YouTube by a man claiming to be a former employee of the company. From the video's description:
In case you want to take the video and upload it to your channel or use it for anything, go ahead. I found the audio, but it belongs to the internet. I actually think it'd be really cool if someone wanted to animate it better.

It sounds like the original issue was that the company missed an appointment. Somehow the issue escalated to where a Michelle (probably a supervisor in a department who could do more to help) was made aware of the situation. She called him and left a voicemail and then probably went home. When the customer called back and tried to reach her or her department, because they had gone home, he kept being rerouted to the customer service/technical support department. After over 3 hours of it, he had had enough. This is his epic meltdown.
An epic meltdown it is. Listen below:
[h/t
TheBlaze
]
[
image via Shutterstock
]
— —
>> Follow Andrew Kirell (@AndrewKirell) on Twitter
Have a tip we should know? tips@mediaite.com