'I Never Said That': Nancy Sinatra Calls Out CNN For Saying She's Unhappy With Trump Using 'My Way'
Singer Nancy Sinatra, who has used her Twitter account to heavily criticize newly inaugurated President Donald Trump, didn't appreciate the way CNN framed a since-deleted tweet she sent regarding Trump's plan on using a song made famous by her iconic father Frank.
Yesterday, Nancy responded to a Twitter user who asked her what she thought about Trump's plan to use 'My Way' at his inauguration. She responded by telling the person to listen to the song's first line.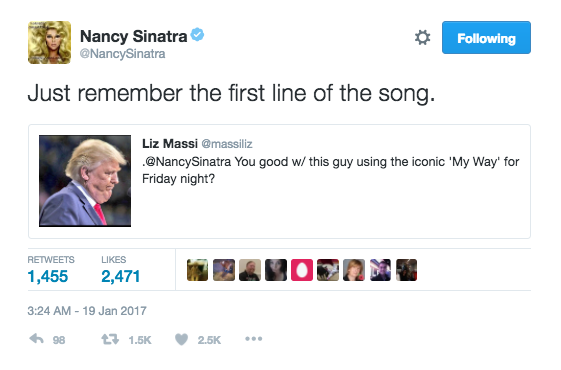 The song begins with the verse, "And now, the end is near."
In its article, CNN first used the headline 'Nancy Sinatra not happy Trump using father's song at inauguration.' This led Sinatra to respond in what appears to be another deleted tweet, sending out a link to the article with the caption "That's not true. I never said that. Why do you lie, CNN?"
Since then, CNN has changed the headline to 'Sinatra on Trump picking 'My Way': Remember the first line' and updated their piece to highlight her response.
However, it wasn't just CNN that took her words to mean that she was upset about Trump using the song or providing an ominous warning about Trump's presidency. The Hill still has its piece on her tweet titled 'Nancy Sinatra warns Trump over use of 'My Way',' something that Sinatra also responded to on Twitter.
It was a joke not a warning. @ValeryOnFire

— Nancy Sinatra (@NancySinatra) January 19, 2017
She commented the same way about another outlet spinning it by saying she issued an "ominous warning":
What a rotten spin to put on a harmless joke. @Jojo_Lovejoy

— Nancy Sinatra (@NancySinatra) January 19, 2017
[image via screengrab]
–
Follow Justin Baragona on Twitter: @justinbaragona
Have a tip we should know? [email protected]