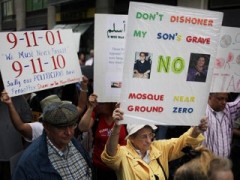 On Sunday Frank Rich speculated that the stoked up furor over the Lower Manhattan mosque could result in a threat to our national security. Said Rich: "An America at war with Islam plays right into Al Qaeda's recruitment spiel. This month's incessant and indiscriminate orgy of Muslim-bashing is a national security disaster for that reason — Osama bin Laden's 'next video script has just written itself.'"
Apparently he may not be all that far off. NPR's Dina Temple-Raston reported this morning that in recent days the mosque debate has been the number one topic on the "jihadi chat rooms and frequent radical Islamic sites on the Web" that attract young Muslims and experts worry the debate is "playing right into the hands of radical extremists" including American-born Internet cleric named Anwar al-Awlaki, the man who has been linked to both the Fort Hood shootings and the Christmas Day bomber. Experts are concerned that the recent "anti-Islamic tone" is something "people like Anwar al-Awlaki can take advantage of."
Said Evan F. Kohlmann, who tracks these kinds of websites and chat rooms for Flashpoint Global partners, a New York-based security firm. "Extremists are encouraging all this, with glee. It is their sense that by doing this that Americans are going to alienate American Muslims to the point where even relatively moderate Muslims are going to be pushed into joining extremist movements like al-Qaida. They couldn't be happier."
So much for encouraging relations with the Muslim world. There's more, and it gets more worrisome:
All this controversy and vitriol are not only encouraged; they're welcomed. Extremists and radical clerics posted a stream of "I told you so" messages: After years of telling followers that Islam was under attack by the West, the harsh reaction to a simple community center seemed to prove it.

That message, transmitted in a multitude of chat rooms and websites, has law enforcement worried. There have been a record number of homegrown terrorist plots in this country since late last year, and the conventional wisdom has been that the long wars in Iraq and Afghanistan have moved some young Muslims — many of whom came of age watching U.S. forces fighting in two wars on television — to join the fight.
It is rather astounding to realize that nearly nine years after 9/11 we are having this debate and that in many ways the rhetoric that surrounds it is far worse than what followed the actual attacks. In fact, much of what this article reports on is exactly what the Bush administration appeared to be hoping to avoid with their immediate calls for tolerance. You can listen to the report below.
Have a tip we should know? tips@mediaite.com