'I Will Not Give Up My Principles': Young Republicans Official Resigns Over Trump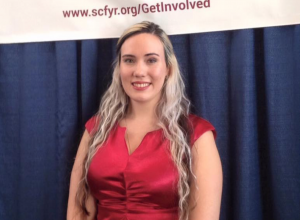 Donald Trump may very well be the face of the Republican Party soon, but for the communications chairwoman of the Young Republicans National Federation, #NeverTrump still means #NeverTrump.
Katrina Jorgensen posted a lengthy statement on Facebook last night, announcing her resignation because "[her] principles would not allow her," to accept Trump's brand of conservatism.
"We have been told for years how we are the future of the party, this is our opportunity to seize that future," said Jorgensen. "But if we have instead decided to uphold a man who does not represent us or our views… I cannot participate in that."
After calling Trump a "hateful fascist" and pointing to his list of controversies, Jorgensen bemoaned how the mogul's ascendance has placed traditional conservatives in an impossible dilemma that compromises all their principles. Jorgensen explained that even if Young Republican clubs only focus on other conservative causes, they will support Trump by default whenever any action falls short of a full denouncement of him.
She wrote in part:
Many of you may choose to support Trump in order to beat Hillary Clinton, that is your decision. For me, I cannot support a candidate who endorses bigotry and lawlessness, with a minimal understanding of the fiscal policies long associated with our party, even if he does have an "R" after his name. I could not later tell my children I did the right thing, instead I would have to live with allowing my politics to be corrupted. I cannot stand by and continue to write newsletters and posts that so strongly conflict with my personal values. I will not surrender my beliefs.

This is not the way forward. I will not quietly fall in line. I will not give up my principles
Indeed, while some Trump critics are falling in line, other #NeverTrumpers are holding on or following Jorgensen's example.
Read the full post here.
[Image via Facebook]
— —
>> Follow Ken Meyer (@KenMeyer91) on Twitter
Have a tip we should know? tips@mediaite.com