People Have No Idea Why Variety Chose This Cover Art of Yahoo CEO Marissa Mayer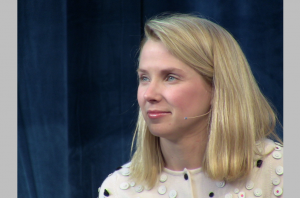 The entertainment trade Variety set out to depict embattled Yahoo CEO Marissa Mayer for its newest cover, but people don't quite know what to make of the symbolism.
"The imagery is striking," writes FishbowlNY about the cover, while Gizmodo went right for the jugular with its headline, "Good God, What Was Variety Thinking With This Marissa Mayer-as-Jesus Cover?"
A sneak peek at tomorrow's @Variety magazine cover story by @xpangler…Marissa Mayer like you've never seen her! pic.twitter.com/ZeEXXayHj9

— Andrew Wallenstein (@awallenstein) May 23, 2016
Sure enough, that's just the depiction that Italian illustrator Marco Venturi was tapped by Variety to create to show Mayer, whose turn as the Yahoo CEO has been notoriously fraught with problems. The illustration shows Mayer struggling to hold up a Y-shaped cross — reminiscent of Jesus Christ carrying his own cross to the crucifixion — with the header, "The End Is Nigh."
"CEO Marissa Mayer carries Yahoo's weight on her shoulders," reads the rest of the copy on the Variety cover. "But with a sale on the horizon, her days are numbered — and there's no resurrection in sight."
Gizmodo's Sophie Kleeman opined about the possible takeaways for Venturi's work:
It's unclear what, exactly, Variety is going for here, beyond an exercise in poor taste. Mayer died for our sins? Is her red suit supposed to symbolize the blood she's spilled while at Yahoo? Does the skull on the ground represent the poor Yahoo shareholders screwed over by bad management and poor decisions? Marissa Mayer is tired? Marissa Mayer's Zamboni ride wasn't worth it? Marissa Mayer couldn't handle lifting the weight of a massive, billion-dollar company? We should pray for Marissa Mayer?
In 2012 shortly after assuming the role, Mayer gave her own version of the famous Vince Lombardi speech on personal priorities by identifying her own: "I think that for me, it's God, family and Yahoo — in that order."
Mayer's personal history with management missteps while at the helm of Yahoo has been well documented. In November, Forbes' Mike Myatt wrote, "It was obvious from the early days, at least to those paying attention, that Mayer didn't have the leadership chops to pull off the admittedly tough assignment of turning around the once iconic Yahoo brand." Despite the perhaps overly-ambitious task of trying to turn around a digital giant whose best attributes were better served in an increasingly outdated world, Mayer's personal ill-preparedness for the role tanked the enterprise further. Mayer lost her chief accounting officer in addition to a slew of staffing shakeups that included a large number of Yahoo departmental vice presidents. "I am so frustrated and upset that so many people's hard work is just getting destroyed," said one of those eager to leave the company.
Have a tip we should know? tips@mediaite.com