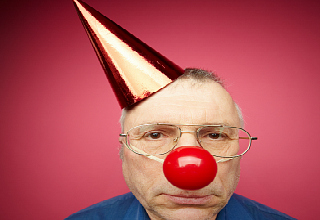 Today is a day of foolishness.
Google's gotta catch 'em all, and Ted Cruz sports Winston Churchill body paint. Nancy Grace wakes up America, so America is scared out of its mind. Oh, and LinkedIn wants you to connect with more cats.
It's a cute, little cyber day where everyone with a computer can laugh about computer-y things, and the media can pretend this day is the only 24-hour period when it generates some imbecility.
True, April Fools' pranks can be fun. But it's the actual news stories on a silly day like today that make harmless ones seem like quarters coming out of our webosph-ears. These stories are the ones that prove we, day-in and day-out, play the fool—and click on him, too.
We drop Ku Klux Klan leaflets at the doorsteps of our neighbors.
We announce on the final day of Women's History Month that "feminism has done so much damage to happiness."
We require Peeps on our donuts.
We NFL fans are hoping to both look AND touch… and probably put it on Instagram.
We may need a hug if we can't handle the facts about climate change.
The people we trust lie. All the time.
So, America, never forget April 1st is just another day on a year-long journey to the center of our perpetual foolishness. We don't need Domino's to "joke" about a new edible pizza box to understand we'll likely be salivating over $7 Eat-A-Box Wednesdays within five years.
— —
>> Clark Young is, above all things, a Mainer and Red Sox fan. Follow him on Twitter here.
Have a tip we should know? tips@mediaite.com